Dreamworks Animation CEO also reflected on an infamous 1991 memo, getting fired from Disney and 3D at his BFI London Film Festival keynote.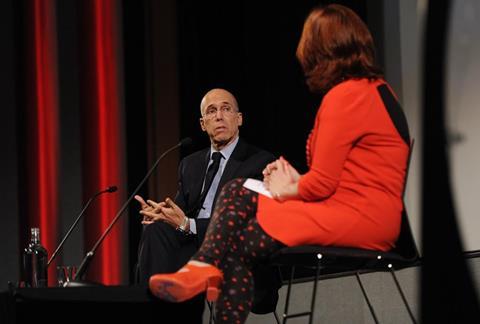 Jeffrey Katzenberg, CEO of DreamWorks Animation, has said the studio's "plans and ambitions" for China are "as big as the country".
The firm behind the Shrek and How To Train Your Dragon franchises recently opened the Oriental DreamWorks facility in Shanghai, home to more than 200 artists, working on Kung Fu Panda 3 and two original films based on Chinese legends.
Delivering the BFI London Film Festival industry keynote, Katzenberg said of the original features: "These are movies that will be made in China, for China, as well as for export to the rest of the world.
"When we finally announce what these two stories are my guess is there will be a phenomenal sense of enthusiasm and pride from the public in China because these are their stories."
Forecasting the opportunities presented by the country, Katzenberg said: "Five years from now, maybe less, China will be the largest movie market in the world. It's going to pass $5 billion this year and is still on this extraordinary trajectory.
"The Chinese have been so embracing of us and our movies. I think that – out of the top 10 animated movies of all time in China, seven of them are DreamWorks. They do well and our humour translates well. I'm very excited about the opportunity of China."
China is renowned for censorship of movies but Katzenberg said: "We have enjoyed great support from the authorities in China, and have never been asked to change a single frame or film. So I think they feel a level of appreciation for our movies."
Infamous memo
The 'in conversation' event, well moderated by LFF director Clare Stewart, saw the mogul reflect on a career spanning more than 45 years – of which the last 20 have been with DreamWorks.
"I think my greatest lessons in life come from my greatest misses and failures," said Katzenberg.
"Those are the things that have informed me and served me best as I've gone forward. I don't think my successes have been as valuable or as important as my biggest mistakes."
One such lesson came after Katzenberg wrote a now infamous memo in 1991, while head of Disney.
"Whew… Buckle up!," said the exec with a laugh as the topic was broached.
"I have no intentions of ever re-reading that memo again," he said of the 28-page document, which inspired the "mission statement" in Cameron Crowe's Jerry Maguire.
"Remember I've learned some of my lessons from my biggest mistakes and that was a world class lesson. Don't write that shit down.
"You can say it, you can think it, just don't write it. And remember, it was 1991. They hadn't invented the Internet yet."
The greatest hustle
Three years later, Katzenberg launched DreamWorks SKG with Stephen Spielberg and David Geffen.
Speaking about the start of the company, he recalled how he managed to pull off "one of the great hustles" just over a week after being fired from Disney.
"In 1994, Steven Spielberg had won the Academy Award for Schindler's List and had just released Jurassic Park. David Geffen had just sold his record company for the third or fourth time for another couple of billion dollars on this great run. I was fired! The boot. Out of the door.
"So the fact that I somehow or another was able to convince these two geniuses that one-third of me was worth one-third of both of them was one of the great hustles in humanity. If you went to Vegas and actually tried to make a bet on that, nobody would take it. And this happened eight days after I got fired."
Spielberg's DreamWorks is now a separate company that releases its films through Disney while DreamWorks Animation has released 29 features.
After spending four years on each project, Katzenberg said he never re-watches the films – with one exception.
"On the tenth anniversary of The Prince of Egypt, someone said we should go back and reissue that movie," he recalled. "So I went back and watched it, and the only thing I could think of was 'What we're we thinking when we made that movie?'
"It is so serious. That was insane. I'm very proud of it – but wow."
3D
Katzenberg also recalled how he saw a major opportunity with 3D, which did not realise its potential.
"I went and saw Polar Express and it was one of the most exhilarating experience I had ever had in a theatre - I felt like I was in the film," he said.
"I got all of our teams together and said we're going to do this. I believed that 3D was the new set of tools to put in the hands of storytellers to enhance the immersive nature of what we can do in our storytelling.
"We could deliver a premium experience and something that would be worth people paying a premium for.
"Unfortunately, the industry as a whole didn't have the same ambition and hit a low benchmark that lost the confidence and enthusiasm of the audience.
"Today, for people to go see a 3D movie they need to hear it's exceptional. Once you lose the trust of the audience, it's hard to get back."
Future
Katzenberg was presented with a cake on stage to mark the 20th anniversary of DreamWorks Animation.
But despite a long career - and rumours he may have considered stepped down if Japan's Softbank had gone through with an acquisition of the company - he said: "I honestly believe that my best years are still ahead of me.
"There's so much I want to do and so many stories I want to tell. So stay tuned - there's a lot more to come."
Earlier in the sold-out session, held at London's BFI Southbank, Katzenberg referenced Turbo and Mr. Peabody & Sherman, both of which underperformed at the box office but were proudly original.
"We had an unprecedented amount of success - 17 out of 17 movies were hits," he said. "Two out of the last four films have lost money but they didn't put the company at risk. The company is strong and profitable. It will be around for a long time.
"It's great to look back and see the lessons to be learned and adjustments that need to be made. We've made a lot of original films, more than any other company over the last three years.
"Sequels are safe and they do well, but even with those we try to take risk. I think How to Train Your Dragon 2 is one of the boldest, most ambitious, most creative movies we've made in the 20 years of our company."