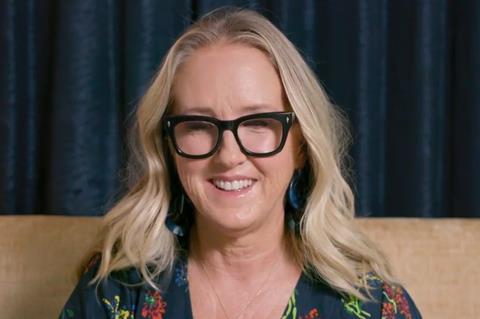 Jennifer Salke, head of Amazon Studios, has unveiled plans to prioritise "artist driven" film content on the platform during a Q&A at Edinburgh Television Festival today (August 25).
"What you're going to see is an acceleration of our movie output all over the world, not only these big global original type movies, but films like Sylvie's Love, One Night In Miami, Sound Of Metal – the kinds of films that are really specific, they're very artist driven and really impactful for us," said Salke. "You're going to see us lean into a bigger movie strategy around various types of content that will be global."
Salke, who has been the head of Amazon Studios for three years and previously held the position of NBC Entertainment president, emphasised the importance of devolving creative control to local teams around the world.
"What we've decided to do is really empower those local teams," she said. "We have from the beginning. We're trying to get out of this centralised management of what decisions those talented teams are making every day. The worst thing we can do is put everything through the same recipe. We have to count on our teams on the ground, carrying forward the culture of Amazon Studios and being the home for talent.
"Stay tuned for the international growth, which is coming. The teams are building, the relationships are growing, the content is flourishing and it is more interesting."
She did, however, steer clear of commenting on the same day-and-date theatrical release debate swirling around Amazon's streaming rivals Disney+ and HBO Max.
TV series
Series in the works at Amazon include an adaptation of Naomi Alderman novel The Power, James Corden and Sally Hawkins-led sitcom Mammals and a show in development with Steve McQueen.
On the subject of new acquisitions, Salke said: "I don't mind having a bit of a stomach-ache about a show. If you're not sure, it's probably because it's not been done before, and you should be thinking good and hard about whether that's a risk you want to take. We should all be taking creative risks. That's what people want. Anything that feels safe I would turn away from."
But she admitted there is room for improvement in the acquisition process: "We tried hard to get Mare Of Easttown but we lost it in the negotiation. I did look back on what our process was going through that because I really, really loved the show. I'm such a fan of Kate's and I would be proud to have it on the service."
She also insisted: "We're not a laundry list of content. We're very curated - we've said from the beginning. It's the heartbeat, it's about the show and the creative, and then we all come together to make sure we somehow get that to as many people as possible so they can feel the feeling we have."
Edinburgh Television Festival runs through August 26.