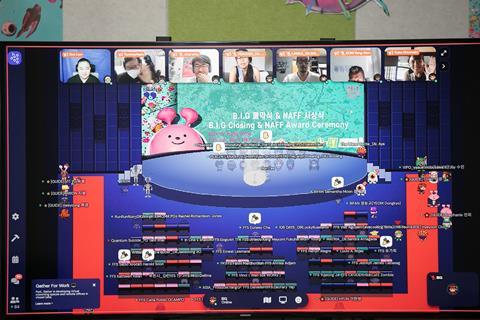 At South Korea's Bucheon International Fantastic Film Festival (Bifan), the Network of Asian Fantastic Films (NAFF) project market has awarded its top prize to Jenny Suen's upcoming comedy Peaches.
The film is described as a Hong Kong-set remake of Daisies, the 1966 Czech political comedy drama by Věra Chytilová, and will be produced by Cate Blanchett's Dirty Films.
The jury comprised Toronto Midnight Madness and Fantastic Fest programmer Peter Kuplowsky, Japanese producer Shiomaki Yuko and Korean producer Young Kim. In a joint statement, they said they chose the project "in consideration of the filmmaker's intrepid vigour and the brilliant premise of transposing the chaotic and critical satire of Vera Chytilova's Daisies to the milieu of contemporary Hong Kong." They added that, of all the films in the market, "none felt as timely, as rousing, or as fun as Jenny's delirious and wonderful vision."
Malaysian filmmaker We Jun Cho, planning his feature debut with Hungry Ghost Diner, won the NAFF Award with what the jury described as "his plans to conjure a thrilling and comic family adventure film about restless spirits".
See below for full list of awards
This year, 202 projects were submitted from 39 countries, of which 40 projects from 28 countries were selected. In total, 146 companies had 655 meetings on the b.square platform.
"We are definitely seeing the advantage of online platforms," said NAFF managing director Thomas Nam. "The thing that really helped out this year is that we programmed pre-recorded project pitches for each of the titles so guests had a chance to preview these first and then decide whether to set up meetings. That also saves the project filmmakers their voices so they didn't have to say the same pitch over and over again with attendees."
Nam said he hoped to continue the pre-recorded pitches even when the market goes back to its in-person format.
"Clashing with the Cannes market this year made it difficult to have meetings with certain companies but if Cannes goes back to May next year, things should go back to normal," he added.
Gathering in Gather.Town
This year, NAFF also started using Gather.Town, a customized online space for community building.
"Basically, it's like an 8-bit video game," Nam explained. "You can scroll or use your mouse to move around and we created five or six virtual spaces with tables, seats, bars and we designed a Bucheon Fantastic Castle, which has a cinema with a stage and screen where you can share things.
"It creates a common space where you video or audio can activate and if someone sits next to you, you can start a conversation or reject the invitation. You can see the entire attendees list if you click on the left-hand side of your monitor and locate where a person is and follow them. Sometimes people don't put their real names on it – for example when I went to Sundance. But here, we make sure our attendees put theirs in. Like "NAFF – name" or "FFS – name"," said Nam, who added it was open 24 hours a day with pre-planned event times.
The BIFAN Industry Gathering closing and NAFF awards ceremony today (July 15) was also held on the platform.
The Bucheon Fantastic Castle (with a maximum capacity of 100 people) was accessed by 94 people in 17 countries for the masterclass given by American History X director Tony Kaye, while the BIG NAFF Opening cocktail party had up to 81 people; the NAFF BYOB party with "Stay Strange" (the festival's motto this year) karaoke had up to 39 people; and the BIG Closing and NAFF awards ceremony had 86 people.
The Fantastic Film School (FFS) started with 100 people from 17 countries with 24 citizens auditing the classes. Producer Jonathan H. Kim led the mentors as dean, joined by sales agent Michelle Son, producers Todd Brown, Kerry Denignan Roy and Kim Won-kuk, BeyondFest and MotelX programmer Evrim Ersoy, director Tony Kaye, and Alexandre O. Philippe, creative director of Cinema Vertige, Exhibition A Pictures, co-owner and co creator of Fried Comics.
FFS this year also started employing the Clubhouse drop-in audio app after each session where participants had open discussions, which Nam also expects to continue doing even after lectures and events come offline.
Full winners list
Bucheon Award
Peaches, dir. Jenny Suen (HK-Tai-US-Fr-Ger-Czech)
NAFF Award
Hungry Ghost Diner, dir. We Jun Cho (Mal)
Discovery of Asia Award
The Land Of Healing, dir. Hoang Le (Viet)
Discovery of Korea Award
ESP, dir. Jung Jae-hoon
NAFF Korean Award 1
Peacock, dir. Byun Sungbin
NAFF Korean Award 2
Lana4, dir. Shim Yohan
DHL Award
The Portal, dir. Chadi Abo (Syr-Fr)
Mocha Chai Award
The Water Sprite, dir. Kaneko Masakazu (Jap)
C-47 Award
The White King, dir. Mattie Do (Laos-Sp)