The Seeds Of Violence, Blue Butterfly Effect also win awards at Korean festival.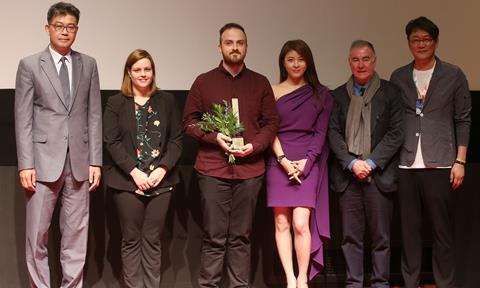 The 18th Jeonju International Film Festival (JIFF) has crowned its award winners for 2017, with Davi Pretto's Rifle taking the Grand Prize worth KW20m ($18,000) in the international competition.
The Brazilian film shows what happens when a rich landowner starts buying land in a remote area and in response, a young man feels his only protection from this is his rifle.
Thanking the fest and jury, Pretto noted this was the first time he had shown the film in Asia.
"It was amazing to meet the audience and show our film, and incredible to meet our colleagues - our new friends now - from all over the planet," he said.
Also in the international competition, the best picture prize, a.k.a. the Woosuk Award which comes with $10,000, went to French film The Park, directed by Damien Manivel. He echoed many of the awardees' sentiments on the festival's dynamism and warmth.
"It was a fantastic week. Making films is difficult and we need people to stay with us on this path, so thank you," he said.
JIFF festival director Lee Choong-jik added: "Jeonju International Film Festival has always emphasized alternative and independent cinema and we will continue to strive to discover and support new independent films and filmmakers."
Korean winners
Lim Taegue's drama The Seeds Of Violence picked up the grand prize in the Korean competition as well as the arthouse distribution support prize which comes with a guaranteed two-week release with merchandising marketing support and a KW10m ($8,850) kitty.
"Wielding a surgical scalpel, the film lays open two major acts of violence to reveal the innards & the intricacies of a culture of brutality, accomplished in a manner that is both bare-bones & chilling," said Jacob Wong, head of the Korean competition jury, when awarding the film.
Dealing with harassment in the army and in personal lives, Lim's debut feature was produced at Dankook University Graduate School of Cinematic Content.
One of the many politically-tinged films in the JIFF selection, Emmanuel Moonchil Park's Blue Butterfly Effect, about the residents of Seongju protesting the deployment of the THAAD missile defense system in their county, picked up the documentary award.
Park previously made his feature directorial debut four years ago at JIFF with My Place, a documentary about his family. He shared that he is continuing to shoot the on-going developments in Seongju and is thinking of making a sequel to Blue Butterfly Effect.
Fallout from China-Korea tensions over the US military's deployment of THAAD has also had real life consequences for the fest, which saw an unspecified number of Chinese submissions pull out and Chinese filmmakers having difficulty getting permission to travel to South Korea.
JIFF opened April 27 with the awards given out today, May 3. The festival will wrap May 6 with closing selection Survival Family, directed by Yaguchi Shinobu.
The fest's Jeonju Project Market opened today and is set to have its awards ceremony this Friday, May 5.
Full awards list
INTERNATIONAL COMPETITION AWARDS
Grand Prize (with KW20m): Rifle (Brazil) dir. Davi Pretto
Best Picture Prize (a.k.a. Woosuk Award, $10,000): The Park (France) dir. Damien Manivel
Special Jury Prize (with KW7m) ex aequo: In Between (Israel-France) dir. Maysaloun Hamoud and The Human Surge (Argentina-Brazil-Portugal) dir. Eduardo Williams
KOREAN COMPETITION AWARDS
Grand Prize (with KW10m): The Seeds Of Violence (Korea) Lim Taegue
CGV Arthouse - Distribution Support Prize (with a guaranteed two-week release at CJ CGV Art House with a cash award of KW10m and additional merchandise marketing support): The Seeds Of Violence (Korea) Lim Taegue
CGV Arthouse - Upcoming Project Support Prize (with KW10m): Happy Bus Day (Korea) Lee Seungwon
MULTIPLE SECTION AWARDS
NETPAC Award (for a film from the Korea Cinemascape section): The Painter's View (Korea) dir. Kim Heechul
Documentary Award (KW10m for the best documentary screened in the Korean Competition or Korea Cinemascape): Blue Butterfly Effect (Korea) Emmanuel Moonchil Park
Daemyung Cuture Wave Award (KW10m for a Korean film): Loser's Adventure (Korea) dir. Ko Bongsoo
Union Investment Partners Award (KW10m for Korean debut filmmaker with priority for investment in their next film): Saem (Korea) Hwang Kyuil