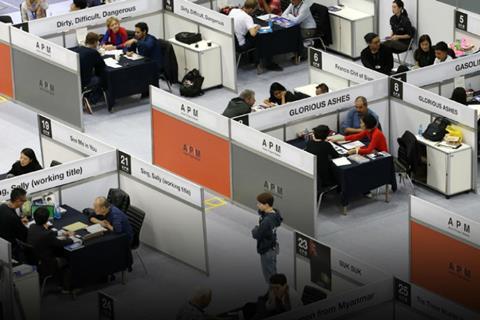 The 24th Asian Project Market (APM) wrapped today (October 14) with the top Busan Award going to Jero Yun's thriller Secret Of My Father, the last in the director's family-themed trilogy.
In pre-production, the film deals with the trauma of a young aspiring musician who experiences a shocking incident due to his father's secret that destroys their middle-class family's happiness.
Yun's first narrative feature and the first in this trilogy, Beautiful Days, opened BIFF in 2018. His second, Fighter, won best actress and NETPAC awards at BIFF in 2020 and went on to the Berlinale's Generation section in 2021.
Budgeted at $2m, Secret Of My Father is being produced by Mo Sung-Jin, who co-produced the 2019 hit Extreme Job and whose credits also include The Host and 26 Years.
The Busan Award is sponsored by Busan Metropolitan City and comes with a $15,000 cash prize.
APM this year hosted a selection of 25 projects from 15 countries, with online meetings for overseas participants and on-site meetings for domestic attendees.
Organisers report a total of 100 participants from 91 organizations conducted 515 official business meetings during the event.
Full winners list
Busan Award
Secret Of My Father (S. Korea) dir. Jero Yun, prod. Mo Sung-Jin
CJ ENM Award
Before, Now & Then (Indonesia) dir. Kamila Andini, prod. Gita Fara, Ifa Isfansyah
KB Award
Fixed Love, Fixed Girl (S. Korea) dir. Lim Sun-ae, prod. Park Kwansu
NUTRILITE Award
Lives Of Crime (Taiwan) dir. Hsieh Pei-Ju, Yang Chieh, Huang Dan-Chi, Lee I-Hui, prod. Estela Valdivieso Chen, Hazel Wu
Artekino International Award
If Wood Could Cry, It Would Cry Blood (Vietnam) dir. Nguyen Phan Linh Dan, prod. Ngo Thi Bich Hanh
Pop Up Film Residency Award
Elephants In The Fog (Nepal) dir. Abinash Bikram Shah, prod. Anup Poudel
MONEFF Award
Spectrum (S. Korea) dir. Kim Bora, prod. Byun Seungmin