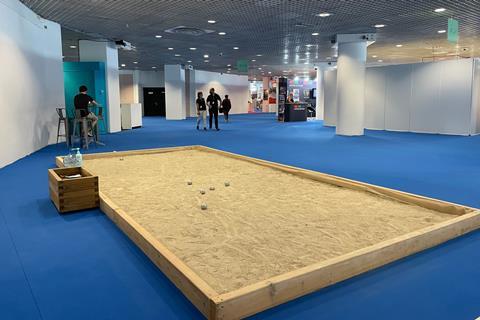 Cannes' hybrid Marché du Film closes its doors on Thursday (July 15) on one of the strangest editions in its 62-year history as it unfolded against the backdrop of the ongoing Covid-19 pandemic.
Executive director Jérôme Paillard reported some 10,000 market registrations, divided 50:50 between on-site and online attendance, compared to 10,000 online participants for 2020's virtual market and the record-breaking 12,527 physical attendees in 2019, some six months before coronavirus struck.
By territory, France had the biggest physical attendance with around 1,200 registrations against 1,943 in 2019, followed by the US with 550 on-site attendees (against 2,264 participants in 2019). There were around 250 UK attendees against 1,145 in 2019.
"Usually, the US is the biggest territory, accounting for 20 to 25% of attendees," said Paillard. "This year it's the French."
The lower physical presence made for emptier screenings but Paillard emphasised the simultaneous online programme kept overall viewing figures on a par with 2019 and 2020.
According to the Marche's data, screening attendance stood at 40,866 for the hybrid edition of 2021, split across 13,463 at the Pre-Cannes Screenings, 18,603 online during the market and 9,800 on-site. This compared with 40,086 for on-site viewings in 2019 and 41,162 online in 2020.
"Attendance for the market screenings was definitely down but we were routinely getting 300 people watching our screenings online at which point you've got quite a nice number," said Laurent Danielou at Loco Films, which is handling Un Certain Regard title The Hill Where Lionesses Roar.
There were also just 130 booths this year, marking a 65% drop in occupancy and leaving the exhibition halls in the Palais des Festivals looking spookily empty.
"I agree it looked a bit sad, but the people weren't sad. Most buyers I've spoken to were happy to be back, with many appreciating not having the pressure of back-to-back meetings," said Paillard. "Given the context we're working in, the result has not been bad."
While the conference programme and networking events would likely remain hybrid going forward, there were no plans whatsoever to continue the Pre-Cannes Screenings, he said.
"That was only due to the change in the dates. There is no sense in doing that again next year," he said.
He added bookings were already looking more positive for 2022, in spite of the ongoing uncertainty around the trajectory of the pandemic.
"There is already strong demand for 2022, both from people who were here and those who couldn't make it. I don't think we will see it return to the levels of 2019 as early as next year but it's looking promising nonetheless."