FIRST LOOK: Shooting wraps in Goa on hedonistic backpacker thriller, starring Mortal Instruments star Robert Sheehan.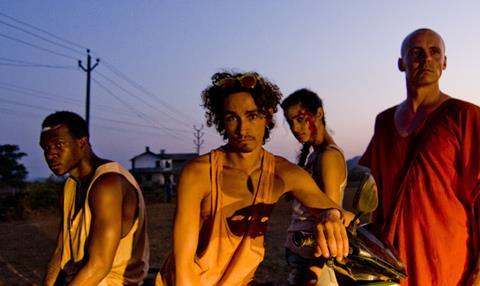 London-based production company SUMS Film & Media has released the first image to emerge from the set of its new production Jet Trash, which has just completed filming in Goa, India.
The feature is directed by former Screen Star of Tomorrow Charles Henri Belleville whose previous feature The Inheritance won the inaugural Raindance Award at the BIFAs and whose latest production Mortlake starring Tom Hardy is in post-production.
Jet Trash stars Robert Sheehan, best known for his role in urban superhero series Misfits and the recent Mortal Instruments.
He stars alongside Osy Ikhile, who will be seen in Ron Howard's upcoming Heart of the Sea, Sofia Boutella (Monsters 2: Dark Continent), Jasper Pääkkönen (Heart of a Lion) and Craig Parkinson (Control, Four Lions).
The film is written by Simon Lewis (The Anomaly, Tiger House) and Dan M Brown and is based on Lewis's own cult travel novel, GO.
Jet Trash centres on Lee and Sol, who have escaped London in favour of the sunshine and parties of Goa. But they soon find themselves on the run from an old enemy set on ruining the party.
SUMS Film & Media's Andy Brunskill and Daniel Emmerson are producing alongside Sheehan.
The company's latest feature Lilting, starring Ben Whishaw, opened Sundance in January and won the festival's Best Cinematography Award. Lilting is also set to open the newly-titled BFI Flare festival as its UK Premiere.
Jet Trash is financed by Bob Benton and Simon Flamank's Bob & Co, Ahmad Ahmadzadeh's Aimimage, producer of Plan B's Ill Manors, Kevin Allen's The Circus, and new Peter Mullan film Hector. Additional finance comes from Craig Tuohy who will also produce.
SUMS Film & Media, which launched in 2012, is a London-based production company led by producer Andy Brunskill. SUMS is currently shooting short film Senka, directed by Dan Sully, written by Lewis Bowman and Sully and supported by Creative England in partnership with BFI NET.WORK.
Sully and SUMS also have a feature in development with Vice Films, which will be announced later this year.