JJ Abrams on Monday evening hinted at his support for Screening Room as he collected the CinemaCon Showman Of The Year award from the very people who stand to lose the most should the disruptive distribution platform become reality.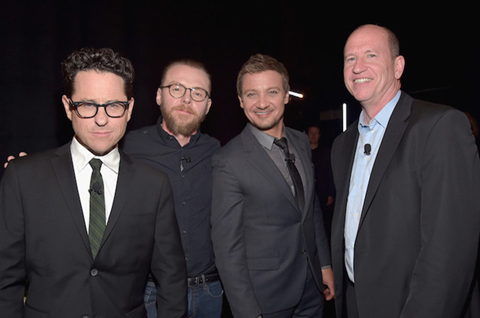 The development at Caesars Palace during the Paramount Pictures presentation illustrated the relative impotence of the exhibition community faced with a tide of change that threatens to engulf the traditional releasing model.
Abrams had already made public his support for Sean Parker and Prem Akkaraju's controversial proposal before CinemaCon and offered some insight when he took to the Colosseum stage.
"Much has been said of technologies that threaten the theatre experience — and I'm no expert, and I'm open to all points of view and good ideas to keep theatres thriving — but we need to do everything we can in this age of piracy, digital technology and disruption to be thoughtful partners in the evolution of this medium.
"We have to adapt… But there's nothing better than going to the movies and there never will be."
Moments earlier Abrams brought warm applause from attendees when he said: "Some of the best experiences of my life have taken place in your houses.
"I've got to stand on the bridge of the Starship Enterprise and sit in the cockpit of the Millennium Falcon and I have never taken any of that for granted."
The film-maker's appearance did not — unusually — herald footage from summer release Star Trek Beyond (Abrams produces and Justin Lin directs) and was the most significant aspect of an otherwise mixed presentation presided over by Paramount vice-chairman Rob Moore.
Studio publicity officers confirmed after the show that production had begun in London on the WWII thriller Allied starring Brad Pitt and Marion Cotillard. Robert Zemeckis directs from a Steve Knight screenplay and Graham King, Steve Starkey and Zemeckis produce the Paramount and GK Films production.
Footage from the film, which will also shoot in the Canary Islands, impressed the crowd.
Allied is scheduled to open in the US on November 23 and was part of a trio of films touted as potential awards contenders, alongside the acquisition Florence Foster Jenkins from Stephen Frears that stars Meryl Streep and Hugh Grant and opens on August 12.
The third title is the timely 1950s racism drama Fences in association with Bron Creative and Macro, which Denzel Washington directs and stars in opposite Viola Davis and is slated for a December holiday release. Scott Rudin and Todd Black produce and the screenplay is based on August Wilson's adaptation of his stage play of the same name.
The presentation began in excruciating style with a visibly uncomfortable and seemingly irritated Megan Fox on stage alongside Will Arnett in a poorly scripted appearance to talk up the June 3 release Teenage Mutant Ninja Turtles: Out Of The Shadows.
A drawn-out joke involving a pizza delivery fell flat and Fox appeared to be muttering in complaint when the pair had to walk into the crowd and present the pizza to an unknown associate and pose for a photograph.
Things could only improve and they did as Jack Huston acquitted himself well to introduce footage from Paramount and MGM's August 19 release of Ben-Hur.
Tom Cruise expressed heartfelt thanks to exhibitors via a video message recorded in London ahead of the October 21 release of Jack Reacher: Never Go Back. Attendees enjoyed the teaser and also lapped up a sneak peek at October 28 release Rings based on the Ring horror property.
The studio showed first footage from sci-fi drama Story Of Your Life, which allowed Jeremy Renner and Amy Adams to sing each other's praises as Renner hailed the filmmakers for creating a sorely needed "badass" female lead role. Denis Villeneuve directs.
The presentation included a gleeful Vin Diesel with Donnie Yen and Deepika Padukone from the Toronto shoot of XXX: The Return Of Xander Cage and ended with a rambunctious taped message from the set of Baywatch featuring Dwayne Johnson and Zac Efron.
Both films are scheduled to open in 2017.