Director of The Force Awakens reveals the thinking behind writing strong female roles.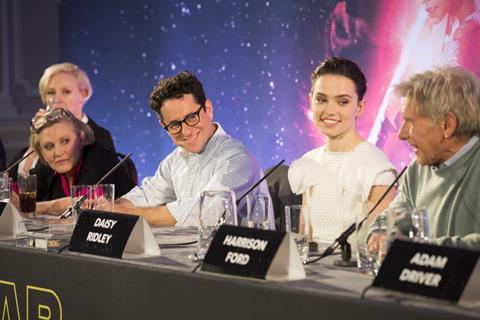 JJ Abrams, director of Star Wars: The Force Awakens, has talked about placing a woman at the centre of the blockbuster fantasy franchise and casting females in both good and evil roles.
"From the very beginning of our discussions about this movie, the notion of a woman at the centre of the story was always something that was compelling to me and exciting," said Abrams at a press conference.
"It was important that - in addition to Leia, who we knew was a critical piece of this puzzle - we wanted to have other women and not necessarily human but female characters in the story."
He pointed to Oscar-winner Lupita Nyong'o in the role of Maz Kanata – "the voice of Force wisdom in the story – and Game of Thrones star Gwendoline Christie as Captain Phasma as "the evil side leading the Stormtroopers".
"We wanted to have female stormtroopers, which we do, and we wanted to have female pilots, which we do," added Abrams. "We just wanted this thing to not feel like it was not inclusive and so we did that.
"We always wrote Rey [played by Daisy Ridley] as this central character but as we started casting the movie, it just felt like the kind of thing we wanted to do and make the film look and feel more the way the world looks and feels."
Lawrence Kasdan, who co-wrote the new film with Abrams and Michael Arndt, said he wanted to bring humour into the film, which is already breaking box office records around the world.
"What had touched us when we first got out of A New Hope was that it's a really funny movie and everybody in it is endearing, charming and surprising, and we wanted to get that feeling back into the saga," said Kasdan, who previously wrote The Empire Strike Back and Return of the Jedi.
Harrison Ford, who reprises his role as Han Solo in the new film, reflected on the experience of returning to the classic character and his thoughts on the ongoing casting of a younger version of role for a spin-off movie.
"I relished this entire experience in a way I hadn't anticipated and a lot of the credit for that goes to JJ and Larry," said the veteran actor. "This is a rare experience in my old life and I'm very grateful for it.
"As for a movie featuring a young Han Solo, I don't know what to think about that. I'm glad someone else will have the burden of being young and take care of that part. It's well beyond my understanding or control and I want nothing to do with it - in the nicest possible way."