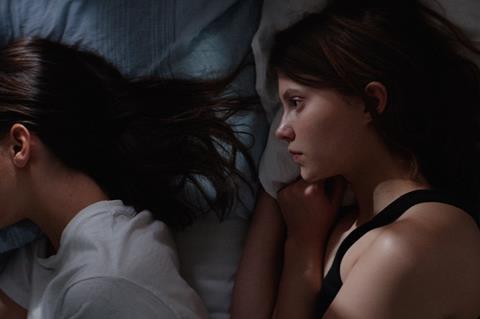 Joachim Trier's Thelma has won the Norwegian Film Critics Award at the 45th Norwegian Film Festival in Haugesund.
The supernatural thriller had its world premiere in Haugesund before heading to Toronto; it screened without English subtitles in Haugesund but got strong reviews from Norwegian critics.
The jury said in a statement, "The winner is an original and gripping genre movie that is very conscious of its film-historical roots. As a contribution to the traditions of its genre, it excels in its deep resonance and distinctly Scandinavian motifs and symbolism."
SF Studios has Scandinavian rights and Memento sells internationally.
Haugesund's audience award went to the German drama comedy Bye Bye Germany, directed by Sam Garbarski. Germany was the focus country at Haugesund this year.
The ecumenical film prize, the Andreas Award, went to Jupiter's Moon, directed by Kornél Mundruczó.
The Ray of Sunshine award - given by cinema managers – went to Michael Showalter's The Big Sick.
The Fipresci Award went to Beyond Dreams, a debut feature from Sweden's Rojda Sekersöz.
At the New Nordic Films Market, the $59,000 (Euros 50,000) Eurimages Lab Project Award went to Jesper Ganslandt's Jimmie. (full story here: link)
The best project award in the Nordic Co-Production Market went to My Wife, My Replica and I directed by Ole Giaever.
The Nordic Script Pitch award went to Denmark's War, What If by Puk Grasten. She receives a one-week writing stay at the Barcelona apartment owned by the Writers' Guild of Norway.
The Next Nordic Generation Award with $1,300 (NOK 10,000) went to Little Dancer from Nils Holst-Jensen from the Danish National Film School.
The Scandinavian Debut Award, a new prize given to a director's debut feature film pitched in the new Scandinavian Debut programme, went to Norway's Library of God directed by Stian Hafstad and produced by Ine Remme for Pistol Shrimps. The prize comes with $7,650 (NOK 60,000).
The other debuts pitched were Aniara, dirs Pella Kågerman and Hugo Lilja, prod Annika Rogell (Swe); Ebba & The Lover, dir Johanna Pyykkö, prod Ruben Thorkildsen (Nor); Lioness Daughter, dir Zanyar Adami, prods Mathilde Dedye, Mehmet Aktas, Janna Heine, Isabella Rodriguez (Swe-Kur-Ger); A Perfectly Normal Family dir Malou Reymann, prods Matildaa Appelin, Rene Ezra (Den); Shorta, dirs Frederik Louis Hviid and Anders Ølholm, prod Morten Kaufmann (Den); Sofia, dir Jenifer Malmqvist, prod Annika Rogell (Swe); Special Forces, dir Ingrid Stenersen, prod Stine Blichfeldt (Nor); and Syden, dir Thea Hvistendahl, prod Andrea Berentsen Ottmar (Nor).