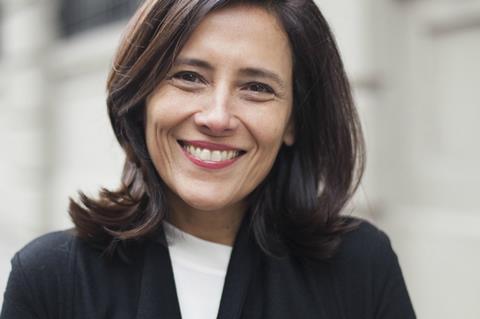 Independent Filmmaker Project executive director Joana Vicente has been unveiled as the executive director and co-head of the Toronto International Film Festival (TIFF), effective November 1.
Vicente will serve alongside artistic director and co-head Cameron Bailey, whose previously announced expanded role begins on October 1. Both report directly to the board.
It is understood IFP and TIFF are combining forces to ensure a smooth leadership transition for both organisations. Vicente, who led IFP since December 2009 and has produced more than 40 films, will attend TIFF, which runs from September 6-16, while she continues to work towards this year's IFP Gotham Awards set for November 26 in New York.
"After an extensive search for a Co-Head we are thrilled to welcome Joana to the new role and to the TIFF family," said chair of the board Jennifer Tory. "The hiring committee was deeply impressed with Joana's combined history as a producer, a champion of independent filmmakers, and with her success in fundraising and partnerships.
"Her extensive knowledge of the changing global film landscape solidified the decision. The Board is confident that Joana and Cameron are the perfect duo to take TIFF into the future."
"Joana thinks big and thinks globally, which makes her an ideal partner," said Bailey. "She complements strategic thinking with strong relationships built over years in the not-for-profit sector, and as a film producer. Her combined expertise as a leader, a manager, and a creator will be an invaluable asset to TIFF. I'm looking forward to working together with Joana to keep TIFF at the forefront of our industry's change."
"I've always looked to TIFF as a prominent international platform for world cinema, with an impact that is both local and global," said Vicente. "Cameron's artistic vision is inspiring and I look forward to working with him and with the passionate team at TIFF to expand the organization at an exciting moment in our ever-changing media landscape."
Vicente has played an integral role in growing the not-for-profit IFP, which nurtures the independent filmmaking community through year-round programmes like the Independent Film Week, Filmmaker Magazine, the IFP Gotham Awards, and the Made In NY Media Center by IFP.
She was the driving force behind the creation of the Made In NY Media Center, and oversaw development and construction of the facility in 11 months, from scouting out real estate, to raising an additional $2m to supplement the City's grant of $3m, to attracting sponsors and donors.
Vicente, who speaks five languages, also founded three production companies and the first HD production and international distribution studio in the US.
"While we will miss her immensely we acknowledge the opportunity to find a dynamic new leader and we are excited to open the search and start a new chapter for the organization as it celebrates its 40th anniversary," said the IFP board in a statement, adding that it wished Vicente well in her new role and was grateful for her tenure at IFP.
TIFF's longtime TIFF executive director and COO Michele Maheux will retire effective summer 2019, while TIFF director and CEO Piers Handling is departing after this year's festival.