Details of Joanna Hogg's third feature have emerged, including a title for the film previously known as 'London Project'.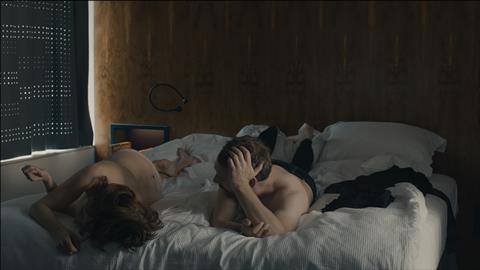 The film will be released under the title Exhibition and will receive its world premiere at the Locarno Film Festival in August.
For production details visit
It stars Viv Albertine, former guitarist of punk band The Slits, and conceptual artist Liam Gillick in their first feature film performances.
Tom Hiddleston co-stars in a supporting role following his performances in Hogg's previous feature films, Unrelated and Archipelago.
Explaining the new title, Hogg said: "The word 'Exhibition' struck me after we'd finished the final cut. There's a very obvious level that it works on for the film, but I was also interested in coming from the word 'inhibition'.
"D, the character I'm telling the story about, is inhibited. The film can be read as being about her coming out of herself and finding a more exhibitionist side of herself."
A UK release date has yet to be announced, but the film is expected to be released in early 2014 by Curzon's film distribution label, Artificial Eye.
It is produced by Wild Horses Film Company.
The plot has previously been kept under wraps but details were released today.
The film centres on 'D' and 'H', who decide to sell the home they have loved and lived in for two decades and begin a process of saying goodbye to their shared history under the same roof.
The upheaval causes anxieties to surface, and wife and performance artist D, struggles to control the personal and creative aspects of her life with H.
Dreams, memories, fears, have all imprinted themselves on their home, which exists as a container for their lives and has played such an important role in their relationship.
It marks Hogg's first film to be set in London. Where her earlier features focused on tensions among groups of people on holiday, Exhibition is about two people in their own home environment.
Working without a conventional script, Hogg pushed her cast to "challenging degrees of self-exposure, risk and play".