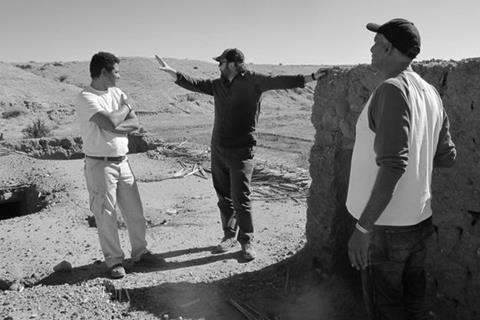 John Malkovich has signed to star as Roman philosopher Seneca in Robert Schwentke's English-language feature project Seneca – On The Creation Of Earthquakes. The film will explore Seneca's relationship with the infamous Emperor Nero who he mentored since childhood.
Malkovich previously starred in Schwentke's action comedy Red in 2010.
Seneca – On The Creation Of Earthquakes is being produced by Berlin-based producer Frieder Schlaich of Filmgalerie 451. The film has already secured backing from the cultural production funding programme of State Minister for Culture and Media, and the Medienboard Berlin-Brandenburg, and broadcaster ZDF/Arte. Weltkino has pre-bought German rights.
The filmmakers hopes to shoot in the southern Moroccan city of Ouarzazate which has hosted international productions such as Martin Scorsese's The Temptation Of Christ, Ridley Scott's Kingdom Of Heaven and The Bible TV series. The production will have access to existing sets to recreate the Rome of 65 AD and will work with Karim Debbagh and Michael Drehe's Moroccan production outfit Kasbah Films.
Kasbah's recent credits include the Moroccan shoots of Men In Black: International, starring Chris Hemsworth and Tessa Thompson and Beirut with Jon Hamm and Rosamund Pike.
Schwentke has spent several years researching the dynamic between Seneca and Nero and has co-written the script with Matthew Wilder based on historical sources and Seneca's original texts. It will focus on the moment Nero used a foiled attack on his life to falsely accuse Seneca of being an accomplice and subsequently orders him to take his own life as punishment.
"It is a parable on the danger of excessive power and totalitarian systems," Schwentke told Screen. "It will continue my examination of forms of opportunism in totalitarian systems, which began with The Captain. The tonality of the film is excessive and tragically funny. Nothing makes the night darker than a light, and so we combine the greatest desperation with childish behaviour, bloodthirst with comedy. [It is] a tonality I have used in The Captain and which is a perfect match for John Malkovich."
Schwentke's English-language credits include The Time Traveler's Wife, Red as well as The Divergent Series: Insurgent and The Divergent Series: Allegiant. He is set to shoot G.I. Joe spin-off Snake Eyes for Paramount later this year.
Schlaich produced Schwentke's Second World War drama The Captain in 2017 for which international rights have now reverted back to Filmgalerie 451 from Paulo Branco's Alfama Films. Schlaich is now looking for a new international sales agent to handle the film.