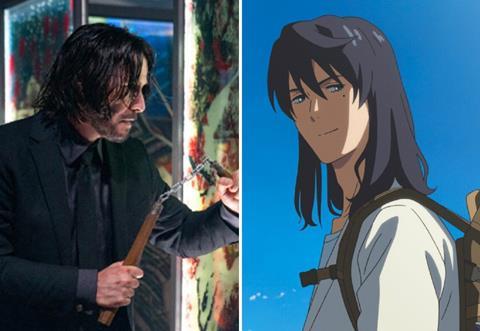 Global box office March 24-26
| | | | | | | |
| --- | --- | --- | --- | --- | --- | --- |
| Rank | Film (distributor) | 3-day (world) | Cume (world) | 3-day (int'l) | Cume (int'l) | Territories |
| 1. | John Wick: Chapter 4 (Lionsgate) | $137.5m | $137.4m | $64m | $64m | 72 |
| 2. | Suzume (various) | $57.7m | $183.4m | $57.7m | $182.4m | 7 |
| 3. | Shazam! Fury Of The Gods (Warner Bros) | $21.8m | $102.4m | $12.1m | $56.1m | 78 |
| 4. | Scream VI (Paramount) | $14.3m | $139.3m | $5.9m | $49.4m | 54 |
| 5. | Creed III (Warner Bros) | $13.8m | $245.9m | $5.4m | $105m | 76 |
| 6. | Post Truth (various) | $12.7m | $72.1m | $12.7m | $72.1m | 1 |
| 7. | 65 (Sony) | $6.2m | $49m | $2.9m | $21.2m | 55 |
| 8. | Best Is Yet To Come (various) | $4.5m | $5.7m | $4.5m | $5.7m | 1 |
| 9. | Puss In Boots: The Last Wish (Universal) | $2.9m | $475.1m | $2.1m | $291.1m | 82 |
| 10. | Cocaine Bear (Universal) | $2.8m | $80.1m | $0.7m | $17.9m | 62 |
Credit: Comscore, click top right to expand. All figures are estimates.
'John Wick: Chapter 4' hits franchise heights
UPDATED: Lionsgate's John Wick: Chapter 4 looks set to take the hitman franchise to new box office heights after delivering an estimated $138m opening session.
In North America, the confirmed $73.8m debut is 29% ahead of the $56.8m launch for John Wick: Chapter 3 – Parabellum. For international, the confirmed $67.6m debut from 71 territories is 73% ahead of Parabellum's opening number.
Among international markets, UK/Ireland leads with $6.4m – grossing more than all the other films in the top 10 combined, and more than 50% ahead of Chapter 3's opening. Germany is next with $5.7m – which is more than 70% ahead of Chapter 3.
In Australia, the new John Wick film delivered the second-biggest opening of the year, with $4.7m – accounting for 58% of the weekend box office in the territory.
Mexico is the fourth-biggest international market, with an estimated $4.2m, which is more than 95% ahead of Chapter 3. India is fifth, with $3.6m – surging far ahead of previous instalments, and more than 668% up on the opening number for Chapter 3.
John Wick: Chapter 4 is once again directed by Chad Stehelski, but is the first in the series not written by Derek Kolstad, with Shay Hatten and Michael Finch stepping in to write the screenplay. Keanu Reeves reprises his role as the vastly capable titular hitman. The producers are Basil Iwanyk and Erica Lee for Thunder Road Pictures alongside Chad Stahelski for 87Eleven Entertainment, and Summit Entertainment.
Chapter 4's epic runtime of 169 minutes does not seem to have deterred audiences, or presented cinemas with the challenge of reduced showtimes.
The film has already outgrossed the lifetime total of 2014's John Wick ($86.1m), and will soon match Chapter 2's total of $174.3m achieved in 2017. John Wick: Chapter 3 – Parabellum is currently the franchise's best performer, with a $328.3m total.
Three more major markets are yet to open Chapter 4 – South Korea and Middle East in April, and Japan in September.
'Suzume' surges to second place in global chart
In China, TMS Entertainment's release of Suzume saw the Makoto Shinkai animation surge to second place in Comscore's global box-office chart – with an estimated $57.7m from seven territories for the weekend period.
China delivered $49.6m on the Japanese anime, which is also flying high in markets including South Korea. Worldwide total for the film is $182.4m, including $104.7m in Japan, where the film landed last November.
Suzume is a dead cert to beat the lifetime global total of Shinkai's previous film, Weathering With You – which reached $193.0m in 2019, including $8.1m in North America. His Your Name grossed a towering $382.3m in 2016, including $233.8m in Japan, $83.7m in China and $48.0m in South Korea.
In China, Suzume's opening number is the biggest for any film since the Lunar New Year holiday in late January, which saw the launch of hits including The Wandering Earth 2 and Full River Red.
Suzume helped the China weekend box office to a $75.7m total – the biggest since the February 10-12 session, which was dominated by Lunar New Year releases. Currently on release in China are Post Truth and The Best Is Yet To Come – which both feature in the latest weekend worldwide box office top 10.
So far, China box office in 2023 stands at $2.27bn, which is 12.5% up on 2022 at the same stage, according to data by Artisan Gateway.
'Shazam! 2' stumbles in second session
UPDATED: After a disappointing opening well below the first film, sequel Shazam! Fury Of The Gods has seen steep declines for its second weekend of play. In North America, the film took an estimated $9.7m – declining 68% from the opening session. For international, Fury Of The Gods grossed a confirmed $11.7m – down 65% from the opening.
Total for Fury Of The Gods after two weekends of play is $101.7m, and the film looks set to fall far behind the $366.1m worldwide lifetime total of 2019's Shazam!.
Hampering Fury Of The Gods in comparison with Shazam! is a very different outcome in China this time around: only $5.8m so far, which compares with a $43.7m total there for Shazam!. Also Russia is missing this time around, whereas the market delivered $10.1m for Shazam!.
'Scream VI' and 'Creed III' battle for fourth place globally
The worldwide top five is rounded out by a pair of sequels: Scream VI from Paramount, and Creed III, which is distributed by MGM/UA in North America and Warner Bros for international.
Both films achieved similar numbers at the weekend. Scream VI, now in its third week of release, added an estimated $8.4m in North America and $5.9m for international. Creed III likewise grossed an estimated $8.4m in North America, with $5.4m for international.
Creed III has been on release for four weeks now, and its cumulative total ($245.9m) significantly exceeds Scream VI ($139.3m).
Creed III extended its lead over the lifetime totals for the earlier films in the boxing franchise: 2015's Creed ($173.6m) and 2018's Creed II ($214.2m).
Scream VI has just overtaken the lifetime total of last year's franchise reboot Scream ($137.7m), to which it serves as a direct sequel. It's also comfortably ahead of 2011's Scream 4 ($97.2m).
However, Scream VI still lags behind the lifetime grosses of all three entries in the original Scream trilogy (1996, 1997, 2000), which were all in the range of $162-173m.