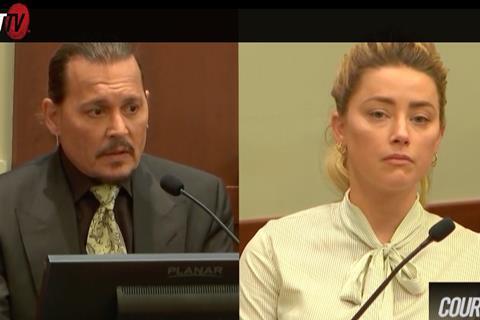 ORIGINAL JUNE 1 REPORT: The jury has found in favour of Johnny Depp in his defamation trial against ex-wife Amber Heard and awarded more than $10m in compensatory and punitive damages. However Heard won one count of her countersuit.
The seven-person returned multiple verdicts addressing each party's defamation suit at a courthouse in Fairfax County, Virginia, on Wednesday afternoon (June 1) as a six-week civil hearing that delivered moments of high drama came to an end.
The verdicts found in favour of Depp's $50m defamation case and found Head acted with malice and defamed him in three statements in a 2018 op-ed she wrote about abuse in The Washington Post that never mentioned Depp by name.
Depp, 58, was awarded $10m in compensatory damages and $5m in punitive damages, however the judge reduced the punitive damages to $350,000 in line with Virginia's statutory caps.
Heard, 36, won on one point in her $100m countersuit after the jury found Depp defamed her through his attorney claiming Heard fabricated allegations against him. Heard receives $2m in compensatory damages and no punitive damages. As the verdicts were read out they elicited wild cheering from Depp fans outside the courthouse. Heard was in court for the verdict but Depp was absent after he joined celebrated musician Jeff Beck for two performances in the UK.
After the verdicts both sides issued statements. An excerpt from Heard's statement read, "I'm sad I lost this case. But I am sadder still that I seem to have lost a right I thought I had as an American – to speak freely and openly."
An excerpt from Depp's statement read, "False, very serious and criminal allegations were levied at me via the media, which triggered an endless barrage of hateful content, although no charges were ever brought against me. It had already traveled around the world twice within a nanosecond and it had a seismic impact on my life and my career. And six years later, the jury gave me my life back. I am truly humbled."
Depp sued ex-wife Heard over a 2018 op-ed article she wrote in The Washington Post in which she said she was a victim of abuse but did not mention Depp by name. Depp's lawyers argued the piece referred to prior allegations she had made against him in 2016. Heard counter-sued Depp over prior claims by lawyers working for Depp that her allegations were a hoax.
Over the course of the trial the court heard allegations of abuse from both sides. Depp said he never struck Heard nor had he ever struck any woman in his life. The court heard evidence alleging abuse by both sides and the former couple's marriage counsellor Laurel Anderson described their relationship as mutually abusive.
Depp has a history of substance abuse however his lawyers argued he had been in control of himself in previous relationships and was triggered by Heard.
Text messages were read out to the court containing extremely violent content passed between Depp and friend Paul Bettany. Depp admitted he was ashamed of the messages but insisted it was dark humour inspired by a Monty Python skit about killing witches.
Amid testimony about substance abuse and numerous explosive arguments the court also heard of an ill-fated trip occasion in Australia in 2015 when Heard visited Depp while he was working on the Pirates Of The Caribbean franchise. The pair got into a fight and Depp lost part of his finger, whereupon he scrawled messages in blood on the walls. Depp claimed the injury was sustained after Heard threw a vodka bottle at him. She alleged he did it to himself and sexually assaulted her.
Depp lost his 2020 UK libel case against The Sun after the newspaper called him a "wife beater".