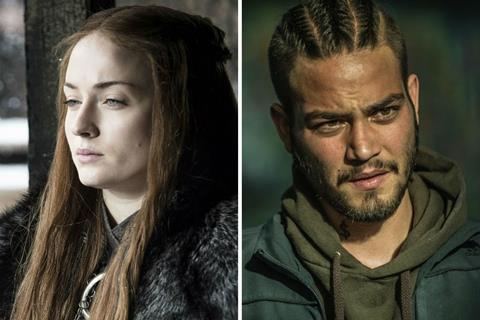 Paris-based sales company WTFilms has boarded sales on Jouri Smit's revenge thriller Heavy, co-starring Game Of Thrones actress Sophie Turner and Daniel Zovatto as a crazy couple living the high life against the backdrop of the high-end drugs scene.
Paris and Los Angeles-based FullDawa Films lifted the lid on the production – produced with Parts & Labor, Paper Chase Films, Lost Lane Entertainment and JoBro productions – on the eve of Cannes.
Based on a screenplay by Seth Miller, the romantic crime-thriller stars Zovatto as a high-end drugs dealer opposite Turner as the love of his life. His life revolves around trust-fund clients, model parties and crazed drug-fuelled escapades.
Life is good for the couple until a long-lost childhood friend (Darrell Britt-Gibson) appears out of nowhere and asks for help with a sketchy deal that sets off an irreversible chain of events where no one is spared and everyone is to blame.
"We are thrilled to present to distributors this very cool ride with a very glamorous couple at its centre in the tradition of Romeo and Juliet and Bonnie and Clyde," said WTFilms co-chiefs Gregory Chambet and Dimitri Stephanides.
It is Smit's feature debut after short films Candyland and The Brothers Kowalski and the Red Bull Media House original series Diplo Presents @Large.
David Atrakchi produces with Smit, Jay Van Hoy, Dillon D Jordan, Zachery Ty Bryan, Jonathan Bronfman, Gael Cabouat and Boris Mendza.
Executive Producers are Ludovic and Alida Pailloncy, Lawrence Cancellieri, Randy Cancellieri, Robert L Hymers III, Rick Matros, Justin Smith, Yohann Zveig and David Elfersi.
"From the first read, I fell in love with the script, the story, its colourful language, and especially the tragic characters Seven and Maddie. We couldn't have found a more perfect couple than Daniel Zovatto and Sophie Turner for those roles," said Smit.
"Heavy is a brilliantly conceived piece of genre writing. With its razor-sharp dialogue, breathless action, themes of true love and wicked splash of humour, it reads like the spiritual sequel to True Romance," said Atrakchi.
Ty Bryan also expressed his enthusiasm: "Heavy checks all the boxes for Lost Lane Entertainment from script to director and talent. It's universally thrilling and edgy with a grounded approach that visually takes on its own identity."
Producer and actor Dillon D Jordan added: "Heavy is a beautifully-tragic story that I immediately connected with the moment David and Jouri brought it to me. Given the fact that David and his team were able to secure such extraordinary talents as Sophie Turner and Daniel Zovatto, I knew Heavy was a film that PaperChase was going to help support."
Sophie Turner is represented by Tracy Brennan at CAA and Jane Epstein at Independent Talent. Danny Zovatto is represented by Charlie Jennings at CAA and Lena Roklin at Luber Roklin Entertainment. Darrell Britt Gibson is represented by Allison Band at Gersh.
Heavy wrapped on April 6, 2018. CAA is representing North American rights and helped package the film.