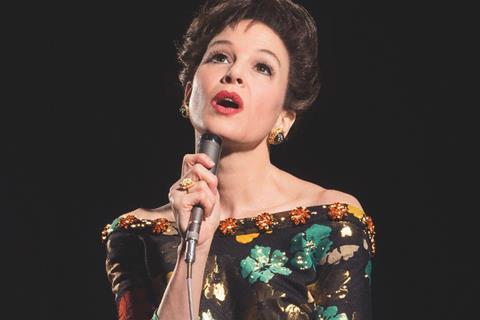 LD Entertainment and Roadside Attractions have announced a US deal with Pathé on the Judy Garland biopic Judy starring Renée Zellweger after watching a promo reel in Cannes.
Tony nominee and Olivier winner Rupert Goold (King Charles III) directs Zellweger alongside an ensemble that includes Finn Wittrock from American Horror Story, Jessie Buckley from Beast, and British veteran Michael Gambon.
Principal photography wrapped two weeks ago and Judy is scheduled for completion and delivery in 2019. Tom Edge (The Crown) wrote the screenplay based on the stage play End Of The Rainbow by Peter Quilter. Pathé is distributing Judy in the UK, France and Switzerland and handles international sales
Judy takes place in the winter of 1968 as Garland arrives in London to perform in a sell-out run at The Talk of the Town.
It is 30 years since Garland shot to global stardom in The Wizard Of Oz, and although the power of her voice has diminished, her intensity and charm endure as she reminisces with friends and fans, and embarks on a courtship with Mickey Deans, her soon-to-be fifth husband.
Mickey Liddell of LD Entertainment and Roadside Attractions co-founders Howard Cohen and Eric d'Arbeloff said, "Judy Garland remains one of the quintessential legends of stage and screen and this chapter of her life is particularly riveting.
"From the incredible early footage that we saw in Cannes, Renee delivers a remarkable performance. As the first feature film about Judy Garland, we believe Judy will be event movie going for a broad audience and we are thrilled that our enthusiasm and ambition for the film made the difference in acquiring such a hotly pursued Cannes title. We could not be more excited to be partnering again to distribute this film in the United States."
LD and Roadside have partnered on I Can Only Imagine, Albert Nobbs and Biutiful.
Judy is a Pathé, BBC Films and Ingenious Media presentation of a Calamity Films Production. David Livingstone produces for Calamity and executive producers include Cameron McCracken for Pathé, Rose Garnett for BBC Films, and Andrea Scarso for Ingenious.
LD Entertainment was represented by Liddell, Roadside Attractions by Cohen, and Pathé by McCracken.