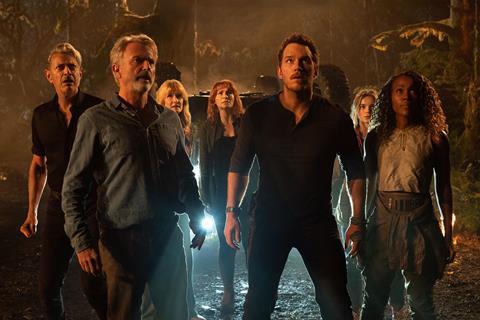 World Box Office June 10-12
Rank
Film(distributor)
3-day(world)
Cume(world)
3-day(int'l)
Cume(int'l)
Territories
1.

Jurassic World

Dominion

(Universal)

$320m
$389.1m
$176.6m
$245.8m
73
2.

Top Gun:

Maverick

(Paramount)

$102.7m
$747m
$52.7m
$353.7m
65
3.

Doctor Strange

2

(Disney)

$10.3m
$930.2m
$5.4m
$532.4m
49
4.

The Round Up

(Various)

$7.6m
$81.2m
$7.6m
$80.5m
4
5.

The Bad Guys

(Universal)

$6.7m
$229.6m
$4.4m
$138.1m
72
6.

Broker

(Various)

$5.2m
$5.3m
$5.2m
$5.3
2
7.

Sonic The

Hedgehog 2

(Paramount)

$2.7m
$397.6m
$2m
$209m
55
8.

Bob's Burgers:

The Movie

(Disney)

$2.4m
$29.2m
$100,000
$2.1m
4
Credit: Comscore, all figures estimated, click top right to expand
'Jurassic World Dominion' stomps into major new markets
Universal's Jurassic World Dominion stampeded from 15 early international markets to a wide global release of 72 territories, plus North America. The third Jurassic World film (and sixth in the Jurassic franchise overall) delivered an estimated $176.6m for international (taking the total to $245.8m) plus $143.4m in North America. Its global total now stands at $389.1m.
Among international markets, the top performer was China, with an estimated $52.5m – the biggest for a US studio film in 2022, despite the current impact of Covid on cinemagoing. It's also the biggest box office number for a film in China in more than three months. So far in 2022, China box office is running 39% behind the pace of 2021 at the same stage of the year, according to data by Artisan Gateway.
UK/Ireland was the second-best performer for Dominion at the weekend, with an estimated $15.4m, delivering Universal's fifth-highest three-day weekend of all time, beating 2018's Jurassic World: Fallen Kingdom (which however debuted bigger in the territory overall, thanks to a five-day opening period).
France, with an estimated $9.7m, and Australia, with $8.5m, likewise beat Fallen Kingdom in their territories. Overall, Dominion opened number one in 52 new international markets, and in North America.
In holdover markets, Mexico led the way with $8.1m (a 46% drop), taking the total after 10 days to $30.4m, ahead of both Jurassic World and Jurassic World: Fallen Kingdom at the same stage of release.
Jurassic World grossed $1.67bn in 2015, and Jurassic World: Fallen Kingdom followed three years later with $1.31bn. So Dominion could experience a similar percentage drop from the previous franchise entry and yet still deliver a $1bn global box office hit.
Yet to open Dominion is Japan, which welcomes the marauding dinosaurs on July 29.
'Top Gun: Maverick' soars past $700m with $747m total
Paramount and Skydance's Top Gun: Maverick achieved a solid hold in its third lap of international markets, dropping only 39% despite the challenge of a significantly expanded Jurassic World: Dominion. In North America, the film fell 44%.
Totals for the belated Top Gun sequel are now $353.7m for international, $393.3m in North America, and $747.0m worldwide.
UK/Ireland was once again the top international territory, with an estimated $7.0m in its third session, and a $63.0m total.
Japan moved ahead of both Australia and France to deliver the second-best international result, down just 6% from the previous session. Takings of $6.8m bring the Japan total to $33.9m.
Totals in Australia and France are now $32.6m and $28.7m respectively, with Germany behind on $18.0m, and then Brazil with $13.0m. South Korea welcomes the film on June 23.
Top Gun: Maverick has now overtaken two of star Tom Cruise's previous biggest hits – Mission: Impossible – Ghost Protocol ($695m lifetime worldwide, 2011) and Mission: Impossible – Rogue Nation ($683m, 2015) – and is behind only Mission: Impossible – Fallout ($792m, 2018). So far, there is no release in China or Russia scheduled for the film.
Between Jurassic World Dominion and Top Gun: Maverick, the top two titles are utterly dominant at the global box office, grossing a combined $422.7m at the weekend – which is 92% of the total achieved by the top eight films in Comscore's worldwide chart. Among the titles competing for the other 8% are two South Korean films: Lee Sangyong's The Roundup, which has now hit an $81.2m global total, and Japanese director Hirokazu Koreeda's Korea-set Broker, which just opened with $5.3m.
The Roundup just passed the 10m admissions milestone in South Korea – the first film of any nationality in the country to achieve this landmark outcome in the pandemic era, and the most-watched Korean film since Parasite.
'Doctor Strange 2' rises up all-time box office chart
Shrek 2 ($928.8m) and Bohemian Rhapsody ($910.8m) are the latest films to be overtaken at the worldwide box office by Doctor Strange In The Multiverse Of Madness, which has now reached $930.2m, and ranks 61st place in the all-time chart.
The latest weekend saw the Disney-Marvel film add another estimated $10.3m, taking the international total to $532.4m and the North American tally to $397.8m. The $930m total makes it the biggest box office hit of 2022, and second only to Spider-Man: No Way Home ($1.90bn) during the pandemic era.
Multiverse Of Madness has not benefited from release in either Russia or China, and is now 37% ahead of the $678m lifetime global total achieved by Doctor Strange back in 2016. That earlier film benefited from a combined $131.5m in China and Russia.