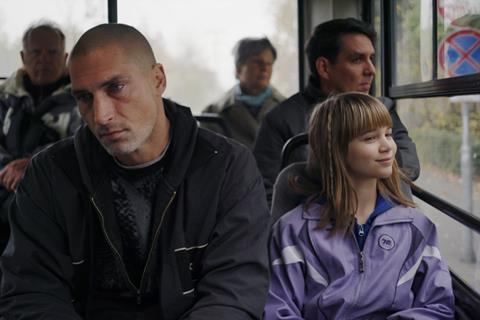 Wild Roots, the feature debut of Hungarian director Hajni Kis, has won the Works In Progress award at Karlovy Vary International Film Festival's industry showcase, Eastern Promises.
A cash prize of €10,000 ($11,300) was awarded to the Hungary-Slovak Republic co-production by Turkey's TRT.
Wild Roots, which is in post-production, centres on an aggressive ex-con whose troubled 12-year-old daughter seeks him out following his release from prison. The cast includes Gusztáv Dietz, Zorka Horváth and Éva Füsti Molnár.
Co-written by Kis and Fanni Szántó, the producers are Júlia Berkes and Balázs Zachar for Hungary's Proton Cinema and the co-producers are Mátyás Prikler and Zora Jaurova for Slovak Republic's MPhilms.
The Works in Progress jury was comprised of Films Boutique COO Gabor Greiner; TRT head of co-productions Faruk Güven; and International Film Festival Rotterdam festival director Vanja Kaludjerčić.
The Works In Progress Post-Production Development Award went to The Alleys, which marks the feature directorial debut of Bassel Ghandou. The Jordanian filmmaker previously co-wrote Oscar-nominated Theeb with director Naji Abu Nowar.
The Alleys centres on a gossip-ridden, violent neighbourhood where an extortionist catches a secret relationship on camera. After the video is sent to the mother of the young woman in the footage, a gangster is employed to put a stop to it all, but things do not go to plan.
The film is a Jordan, Qatar, France and Saudi Arabia co-production, and is lead produced by Rula Nasser. The cast includes Emad Muhtaseb, Maisa Abdul Hadi and Monther Rayahneh.
KVIFF's Eastern Promises industry strand took place online for the first time this year due to the Covid-19 pandemic. A total of 41 film projects were selected, with the most promising titles receiving awards worth a total of €165,000 ($147,000).
Docs In Progess winner
The €5,000 ($5,700) Docs In Progress award was presented to Barbora Sliepková's The Lines.
The Slovak Republic film, produced by Barbara Janišová Feglová, centres on the loneliness of a city dweller in Bratislava and is visually inspired by Slovak conceptual art and photography.
The documentary, which is in post-production, was selected from eight projects.
Other awards
Serbian project Usud from director Stefan Malešević and producer Andrijana Sofranić Šućur won the €10,000 Works In Development award.
Set in a Slavic village, it centres on two brothers who become divided after inheriting the family farm. When the crops fail, one of the brothers heads off on an adventure to find Usud, the god responsible for assigning destinies to people.
The award was jointly presented by Karlovy Vary with the Creative Europe-backed Midpoint Feature Launch script and project development scheme alongside the When East Meets West co-production forum of the Trieste Film Festival. All nine projects from Central and Eastern Europe had gone through the Feature Launch 2020 programme.
Usud also saw producer Sofranić Šućur win the Rotterdam Lab Award.
Other presentations saw the Connecting Cottbus Award go to Ukrainian project Vacuum, from writer-director Yelizaveta Smith and producer Aleksandra Kostina; while the €5,000 Eurimages Lab Project Award went to Italy-France co-production Atlantide, from director Yuri Ancarani and producer Marco Alessi.
Atlantide centres on a little-seen side of Venice, where teenagers challenge each other to illegal races in their customised motorboats, and centres on three characters over the course of one summer.