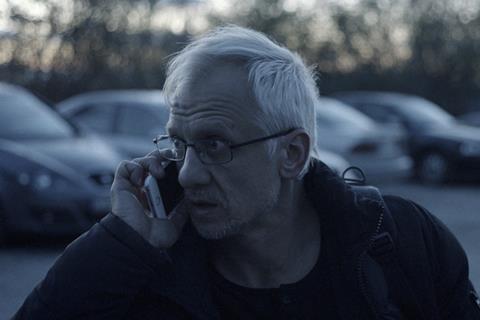 Bulgarian-Greek comedy The Father won the Grand Prix - Crystal Globe at the 54th Karlovy Vary International Film Festival (June 28 – July 6), which closed yesterday with its annual awards ceremony.
Scroll down for full list of winners
Directed by Kristina Grozeva and Petar Valchanov (The Lesson, Glory), The Father was selected by grand jury comprising Annemarie Jacir, Štěpán Hulík, Sergei Loznitsa, Angeliki Papoulia and Charles Tesson. The Crystal Globe comes with $25,000 prize money.
The film tells the story of a middle-aged man (Ivan Barnev) attempting to stop his widowed father (Ivan Savov) coming off the rails, and was described in Screen's review as a "supremely well-honed comedy, segueing between farce and satire". The film is sold internationally by Wide and is produced by Abraxas Film and Graal Films.
The special jury award went to Jan-Ole Gerster's German drama Lara, one of the buzziest titles of the festival. The film's star Corinna Harfouch also won best actress for her role as a jealous mother who struggles to cope with the prospect of her son's success. Beta Cinema is handling international sales.
Tim Mielants won the best director award for dark comedy Patrick set in a naturist camp. The film has won awards at the Connext Work In Progress forum.
The 55th Karlovy Vary Film Festival will be held from July 3 to July 11, 2020.
Full list of winners
GRAND PRIX – CRYSTAL GLOBE ($25,000)
The Father (Bulgaria, Greece) dir. Kristina Grozeva, Petar Valchanov,
SPECIAL JURY PRIZE ($15,000)
Lara (Germany) dir. Jan-Ole Gerster
BEST DIRECTOR AWARD
Tim Mielants for Patrick (Belgium)
BEST ACTRESS AWARD
Corinna Harfouch for Lara (Germany)
BEST ACTOR AWARD
Milan Ondrík for Let There Be Light (Slovak Republic, Czech Republic)
SPECIAL JURY MENTION
The August Virgin (Spain) dir. Jonás Trueba
SPECIAL JURY MENTION
Antonia Giesen for The Man of the Future (Chile, Argentina)
East Of The West – Competition
EAST OF THE WEST GRAND PRIX ($15,000)
The Bull (Russia) dir. Boris Akopov Russia
EAST OF THE WEST SPECIAL JURY PRIZE ($10,000)
My Thoughts Are Silent (Ukraine) dir.Antonio Lukich
Documentary films – Competition
GRAND PRIX FOR BEST DOCUMENTARY FILM ($5,000)
Immortal (Estonia, Latvia) dir. Ksenia Okhapkina
DOCUMENTARY SPECIAL JURY PRIZE
Confucian Dream (China) dir. Mijie Li
PRÁVO AUDIENCE AWARD
Jiří Suchý – Tackling Life With Ease (Czech Republic), dir. Olga Sommerová
Non-Statutory awards
AWARD OF INTERNATIONAL FILM CRITICS (FIPRESCI)
The August Virgin (Spain) dir. Jonás Trueba
THE ECUMENICAL JURY AWARD
Lara (Germany) dir. Jan-Ole Gerster
Ecumenical Jury Commendation
Let There Be Light (Slovak Republic, Czech Republic) dir. Marko Škop
FEDEORA AWARD
Passed by Censor (Turkey, Germany, France) dir. Serhat Karaaslan
FEDEORA JURY Special Mention
Aga's House (Kosovo, Croatia, France, Albania) dir. Lendita Zeqiraj
EUROPA CINEMAS LABEL AWARD
Scandinavian Silence (Estonia, France, Belgium) dir. Martti Helde
Industry awards
WORKS IN PROGRESS (100,000 EUR)
Pigeon's Milk (Russia, Moldova) dir. Eugen Maryan
DOCS IN PROGRESS (5,000 EUR)
The Silhouettes (Iran, Philippines) dir. Afsaneh Salari
EURIMAGES LAB PROJECT AWARD (50 000 EUR)
Bottled Songs (Germany, France, USA, Finland) dir. Kevin B. Lee, Chloé Galibert-Laîné
KVIFF & MIDPOINT DEVELOPMENT AWARD (10 000 EUR)
Some Birds (Hungary) dir. Dániel Hevér
Crystal Globe for outstanding artistic contribution to world cinema
Julianne Moore, USA
Patricia Clarkson, USA
Festival president's award for contribution to Czech cinematography
Vladimír Smutný, Czech Republic