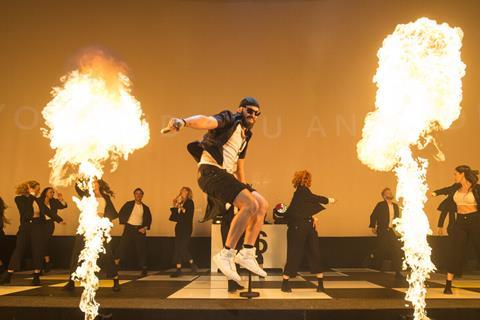 The 56th Karlovy Vary International Film Festival got underway with an unconventional instruction for cinemagoers – to take their phones out.
Prior to the beginning of the event on Friday, July 1, attendees were requested over the public address system "to turn on" their mobile phones, "and take video during the ceremony".
The event started with a large QR code projected on the screen in the Hotel Thermal's Velky sal auditorium. Those who scanned it were connected to a YouTube video promoting the event, creating a strange but communal atmosphere of audience members all on their phones watching the same video in near-unison.
Karlovy Vary opening ceremonies are typically energetic affairs; it was no different this year, with a live music performance accompanied by a troupe of street dancers and multiple fire blasts, warming the faces of those in the front rows.
Age divide
The ceremony was hosted by Czech television personality Marek Eben, who performed a series of jokes about the generational divides in the audience.
Referring back to the opening QR-code gambit, Eben said it was a natural progression for a festival looking to engage a younger audience. "There is a group at the other end of the spectrum who didn't bring their phones at all – they're basically dead," he joked.
Eben then joked that "some of [the audience] are worse off than me" when it comes to keeping up with technology, before introducing long-time festival president Jiri Bartoska, a beloved figure in Karlovy Vary whose image adorns the socks in this year's merchandise selection.
Bartoska said he was glad to be back with a full-force festival in July after "Covid has played around with us, playing hide-and-seek." Last year's event was moved to August due to the pandemic, with attendance numbers strong but still down on pre-pandemic levels.
The president also acknowledged "the awful war in Ukraine", noting Karlovy Vary will host the Works-In-Progress strand of Ukraine's Odesa Film Festival, screening several films in development by Ukrainian directors. Earlier this week the festival issued a statement defending its decision to include Russian drama Captain Volkonogov Escaped in its Horizons strand, after an open letter of protest from Ukrainian directors.
"Filmmakers are a kind of Hamlet – they try to fix these strange times," added Bartoska, after the line 'to be or not to be' from Shakespeare's play was among the phrases projected on to the screen during the opening performance.
Zaoralová tribute

The ceremony's most emotional moment came in tribute to Eva Zaoralová, KVIFF's artistic director from 1994 to 2010 and artistic advisor until her death aged 89 in March this year.
A collage of photos from every year of her involvement in the festival was projected on screen; titles playing today at the festival include Zaoralová's favourite film, Federico Fellini's La Strada; while an exhibition has been set up on the first floor of the Hotel Thermal in tribute to her work at KVIFF.
Following the ceremony, this year's festival opened with the Czech premiere of Paolo Genovese's Italian romantic drama Superheroes starring Alessandro Borghi and Jasmine Trinca. None of the festival team were in attendance, although Genovese sent a video message, offering apologies for his absence as he is two days from the start of production on his next title.
Superheroes was released in Italy by Medusa Distribuzione in December 2021, and has grossed €4m worldwide to date.
KVIFF runs until Saturday July 9, with the Eastern Promises industry days taking place from Sunday July 3 to Wednesday July 6.