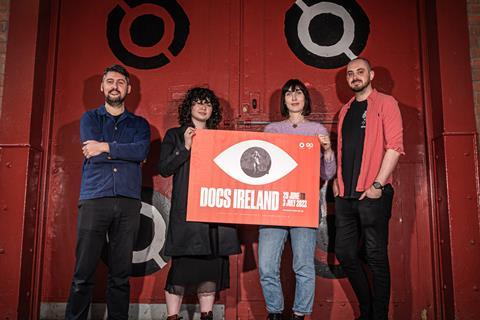 Documentaries from Kathryn Ferguson and Penny Lane will screen as part of this year's in-person Docs Ireland, the international documentary festival taking place in Belfast from June 29 to July 3, with US filmmaker Darren Aronofsky also joining the line-up for an 'in conversation' session.
Belfast-born Ferguson's Nothing Compares, about the life and legacy of Irish singer Sinéad O'Connor, focusing on a five-year period of her life (1987-1992) will open the festival on June 29. The title premiered earlier this year at Sundance, and has also played at CPH:DOX and Hot Docs.
American filmmaker Lane's Listening To Kenny G, which premiered at Toronto, will close the festival on July 3. Lane takes a look at the impact that American instrumentalist Kenny G has had on the smooth jazz genre.
Adam Low's James Joyce's Ulysses, a DoubleBand and Lone Star co-production for BBC Arts and BBC Northern Ireland, will debut. It examines Irish writer Joyce's modernist novel 100 years after it was first published, with contributions from writers Salman Rushdie and Colm Tóibín.
Now in its fourth edition, the festival will also give emerging filmmakers the opportunity to meet and learn from industry experts through a series of masterclasses, workshops, panel discussions and in-conversation sessions. These include a panel discussing European documentary co-production with Germany's Corsa Films, France's Films du Force Majeure and Sweden's Sisyfos Film.
An 'in-conversation' session with US filmmaker Darren Aronofsky will also take place (June 30) at the Queen's Film Theatre, with the Requiem For A Dream and Black Swan filmmaker attending in-person, to discuss his career to-date.
The Docs Ireland Marketplace will be meeting on July 1 at the Europa Hotel – the only marketplace dedicated to documentary in Ireland. There will be representatives at the 2022 edition from Austrian documentary specialist Autlook, BBC Docs, BBC Northern Ireland, BBC Storyville, the BFI Global Screen Fund, National Geographic and London-based sales and production company Taskovski Films.
The Docs Ireland - Northern Ireland Screen Documentary development pitch returns for the third year, presenting six feature documentary project pitches from filmmakers across Ireland, in a competition to receive an award of up to £7,500 towards a pilot for their documentary feature.
The festival is sponsored by Northern Ireland Screen, Belfast City Council, Department for Communities, BFI FAN, TG4, Film Hub NI, BBC Northern Ireland and Yellowmoon.