Concert documentary Katy Perry: Part Of Me is to be made available for streaming to the pop star's Facebook fans from today (June 20).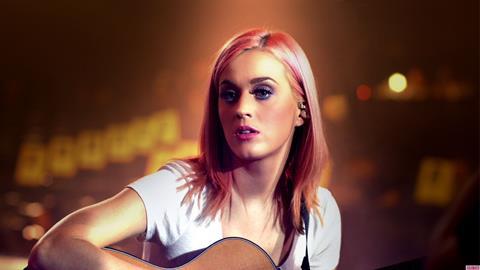 Fans in the UK, US and Canada will have first access to the stream, powered by media player Screenburn. A release for fans in Brazil is scheduled for later this year.
Fans can access the film through their news feeds or a link on Perry's official Facebook page. They can continue to stream it up to 48 hours after purchase.
Tom Raffe, director of Screenburn, said the release of the film speaks to the dedication of Perry's fan base.
"Katy's is certainly a landmark release simply because of the incredibly passionate following she has on the platform and throughout social media," Raffe said. "Her audience is huge and always hungry to access performances and creative content on any platform".
The film's release coincides with Perry's four-date stint in London's O2 arena leading up to the 62-arena North American leg of her Prisimatic World Tour.
Katy Perry: Part Of Me, distributed by Paramount Pictures, chronicles the pop star's 2011 world tour, including the work leading up to the shows, live concert footage and behind-the-scenes interviews with Perry and her friends.