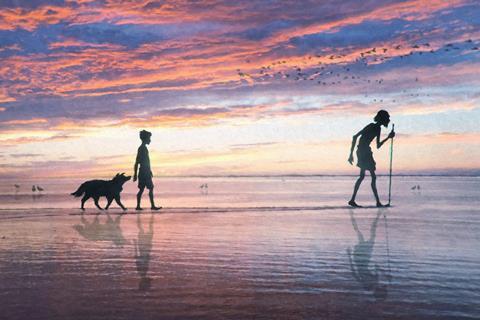 Adrian Politowski's LA-based production and finance company Align has boarded Kensuke's Kingdom, the animated adaptation of the best-selling 1999 novel by UK author Michael Morpurgo.
Sold by Bankside Films, Kensuke's Kingdom has been put together as a UK-France-Luxembourg co-production. It is directed by Neil Boyle and Kirk Hendry, and has Sally Hawkins, Cillian Murphy, Ken Watanabe and Raffey Cassidy in the voice cast.
The film tells the story of a boy swept overboard with his dog during a storm while on a sailing trip with his family. The pair wash up on a remote island in the Pacific.
Align, which provides senior debt and equity, is cash-flowing the pre-sales and the tax credit. Politowski revealed that Align is pumping €5.4m ($6.5m) into the project, representing just over half the overall budget and the final piece of the financing puzzle.
Animation began last September on the feature, which is scripted by Frank Cottrell-Boyce. Camilla Deakin and Ruth Fielding of Lupus Films are producing, alongside Sarah Radclyffe, Barnaby Spurrier, Politowski and Martin Metz of Align, Stephan Roelants of Melusine Productions and Jean Labadie of Le Pacte, which will distribute in France.
Kensuke's Kingdom was developed and co-financed by the BFI which granted the project £1.62m ($2.23m) in 2020 – its biggest production award of the year.
Further development and financing partners include Ffilm Cymru Wales and Film Fund Luxembourg, with additional support from Creative Wales. Final delivery on the feature is expected in 2023.
Align strategy
Politowski, the founder and former boss of Belgian financier and production outfit Umedia, set up Align with Umedia colleague Nadia Khamlichi in 2019.
The company aims to fund five projects a year in the $6m-$30m budget range. Projects may originate internally or through collaboration with third-party producers.
"Animation was always part of the strategy at Align – we're genre-agnostic in terms of the films we want to produce and finance," Politowski told Screen.
He added that the pandemic has allowed for extra focus on animation; the company is also one of the partners on animated family feature Blazing Samurai, sold by the UK's GFM Animation, and expects to invest in another two to three animated films this year.
Align finished shooting Sophie Hyde's Good Luck To You, Leo Grande, starring Emma Thompson, a few weeks ago in the UK. The $4m comedy-drama was the first live-action feature the company has shot since the beginning of the pandemic.
"Leo Grande is very typical of how we work at Align whereby we'll have a producer who will have developed the project and will have found some of the talent. Then we come aboard at that stage and work with them to fully finance or at least majority finance [the project]," said Politowski.
Leo Grande is scripted by Katy Brand and co-stars Daryl McCormack. Thompson plays Nancy Stokes, a 55-year-old widow yearning for adventure, human connection and good sex. The project is produced by Debbie Gray of Genesius Pictures.
Politowski added that Align is looking to do more live-action features in future but for now is "treading cautiously" given Covid issues and focusing on animation.
The Sweden-born executive founded international film financing firm Umedia in 2004, with the company growing to include bases in London, LA, Paris and Brussels. Politowski left Umedia in 2019 and sold his remaining stake in the company in 2020.
"Ultimately, I wanted to be more involved in the projects. At Umedia, we were doing 50-plus projects a year. It was a service provider in a way; Align we see as a producer and financier of content," the producer told Screen.
The new outfit has a $200m fund to be deployed from 2019 to 2022.
"All our investors are European [from] different countries: UK, France, Luxembourg, Italy, Switzerland," said Politowski, adding that the fund is not tax-based.
"[The investors] are all pretty much family offices or high net-worth individuals," he continued, adding that "a few banks" are also involved.