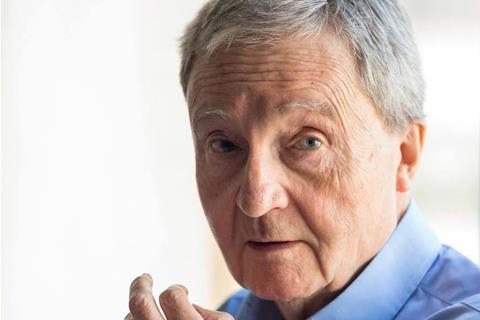 Tony Garnett, the film and television producer behind Ken Loach's breakthrough features, has died aged 83.
The British producer collaborated with Loach from 1965 to 1979 on films including Kes, Family Life and Black Jack as well as seminal TV drama Cathy Come Home.
World Productions, the company he co-founded in 1990, said in a statement: "After a short illness, Tony Garnett, the legendary TV and film producer… died around midday on January 12. Tony was a great man and an inspirational producer who will be sorely missed by everyone who knew him."
Paying tribute to his former collaborator, Loach told the BBC: "He understood the basic conflict at the heart of society between those with power who exploit, and those who are exploited. And that essential conflict I think was at the heart of everything.
"But he was a brilliant, complex man. And he was intensely loyal. He was a generous spirit. We laughed a lot together. And his understanding of the world, and his understanding of the conflicts that face everyone now are sorely missed and really needed now."
Starting as an actor, Birmingham-born Garnett began his partnership with Loach after being appointed assistant story editor of BBC strand The Wednesday Play.
Garnett went on to write and direct two films himself including gritty drama Prostitute in 1980 and revenge thriller Handgun in 1983.
For the remainder of the 80s, he worked in Hollywood on titles including Earth Girls Are Easy, Shadows Makers and Sesame Street feature Follow That Bird.
He returned to the UK to found World Productions in 1990 with producer and film financier John Heyman.
Under Garnett, the company produced groundbreaking BBC dramas This Life, The Cops and Between the Lines. He retired from producing in 2006.
Among those paying tribute was Mark Herman, writer and director of Brassed Off, who said: "Tony was a huge encouragement, very generous with his time and advice when I took my first steps into the film industry. Not just a super talented deep thinker but a genuinely lovely man."
Dan McCullough, producer of BBC/HBO drama His Dark Materials, said: "A titan of TV. And an inspiration. He took the cameras off the studio floor and made TV drama on the streets instead. We owe Tony a lot. RIP."
Kate Ogborn, producer of Netflix series The End of the F***ing World, said: "He was a brilliantly encouraging and inspirational chair of the BFI Production Board during the time I worked there. He made great television and baked a delicious loaf of bread too."
In one of his last published works, he wrote for Screen's sister publication Broadcast in 2016 about his concerns about the BBC's slow response to its online rivals and what he saw as "a shameful gap, at least in drama and docs: the almost total absence of films that sympathetically reveal the lives of people around the country, in non-genre, non-tabloid ways."