Life of Pi actor Irrfan Khan has added further criticism of India's submission to the Oscars – and revealed he wants to make a film based around music.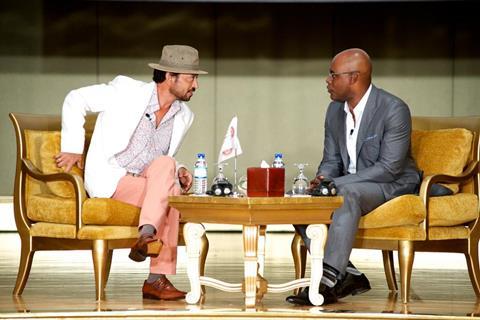 Khan starred in The Lunchbox, a heartwarming feature that debuted at Cannes and was considered a shoo-in for the Best Foreign Language Oscar submission from India.
However, the selection committee of the Film Federation of India ignored the critically acclaimed title and instead chose Gujarati film The Good Road.
Speaking on stage at the Abu Dhabi Film Festival, Khan said the move was out of touch with the changes occurring in Indian cinema and was a "regressive" move.
"No problem, if they didn't select The Lunchbox," said the actor, who also co-produced the film.
"Unfortunately, the selection made by the people concerned shows they don't realise the way the industry is changing. You are not encouraging the serious efforts currently being made to improve the image of Indian cinema.
"India needs to change its perception in the West. We are much more than item songs. In regional cinema, there are very bright people. But the system should be positive and productive, not regressive."
Khan acknowledged the countless films made in India over the past year, in several different languages, highlighting features such as Ship of Theseus and Madras Café. But he said he could not understand why the committee had chosen "a film that has no future".
Khan walked the red carpet in Abu Dhabi on Saturday night before a screening of his latest film, Qissa, in which he plays a Sikh refugee in the post-partition drama.
He was also seen demonstrating dance moves at the Indian dinner laid on by the festival the same evening.
It speaks to a love of music that Khan would like to employ in a future role.
"I'm dying to do a film about music. I want to live with music for a few months and explore music," he revealed.
Asked if it would involve him singing or playing an instrument he replied: "Either. I've been looking for an excuse to live with music for sometime now.
"I love music of all kinds - classical, pop, jazz…whatever. Singing or playing an instrument, anything will do. I can always learn how to play an instrument. I have always wanted to learn how to play the saxophone."
The desire may stretch back to when he was a "very shy" youngster and stepped on stage at school to sing, only for no sound to come out of his mouth.
"Nobody ever imagined I would become an actor. I was so shy."