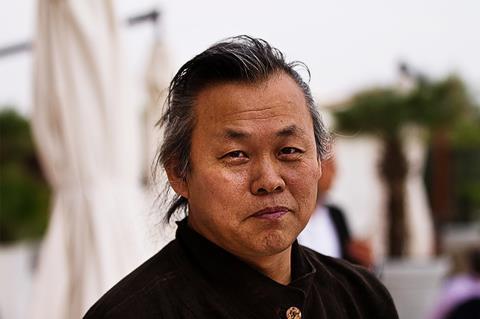 South Korean director Kim Ki-duk and his on-screen alter-ego, actor Cho Jae-hyun, have been accused of multiple sexual assaults in an in-depth #metoo expose aired last night (March 6) on major local broadcaster MBC's investigative journalism programme PD Notebook.
A
"Actress A" is the same who previously spoke out late last year after seeing prosecutors drop sexual harassment charges against Kim while pursuing only assault charges.
At a press conference in Berlin where Kim premiered his latest film Human, Space, Time And Human in the Panorama section, he is reported to have said Actress A and he simply had "different interpretations" of what happened.
For PD Notebook, Actress A detailed previously undisclosed allegations about how, early on when she was cast for Moebius, Kim tried to get her to have sex with him while attending the Busan film festival and eventually took his trousers off and exposed himself in a hotel room where they had been having tea with another person; how he would suddenly touch her inappropriately – for instance, pinching her breast, at which point once she reflexively hit him; and how Kim and Cho tried to coerce her into a threesome with Kim and another actress before the start of the production – which, in the end, she left after two days.
Kim stated that in the last instance, it was Actress A who forced him and the other actress into a hotel room and ran off.
She countered: "How could that make any sense? Director Kim Ki-duk is a former marine."
A representative of the Korea Federation of Movie Workers' Union, which looked into the case, stated Kim was infamous amongst students for saying things such as, 'If you want a leading role in one of my films, it's simple. You just have to sleep with me,' while lecturing at Seoul Institute of the Arts as an honorary professor.
B
"Actress B" said she ripped up her contract and left the entertainment industry after the shock of her encounter with Kim at a coffee shop where he asked about her private parts and what she imagined his to be like, finally asking to go somewhere so that he could see her naked.
When she told her agency, "They seemed more upset that I let this chance [to be in a Kim Ki-duk film] go."
Asked to respond, Kim left a long text message with the investigative team saying: "I never fulfilled any personal desires through [using] my position as a film director."
He added: "I have kissed [women] unilaterally in order to try to win their heart(s). But I never took more action than that without consent."
C
"Actress C" called his defense "comedy." She had already detailed how Kim called her to the former set of his 2001 film Address Unknown – a red bus in Hongcheon, Gangwon Province – on the pretext of the cast and crew getting to know one another. According to her, once there, she found herself alone with him saying he needed to get to know her. He ripped off her clothes and slapped her ten times.
Afterwards, he sent her ten text messages apologising and saying he worked in a factory when he was young and his father would hit him "1,000 times, 2,000 times a day," so he thought he must love her.
"Kim Ki-duk, Cho Jae-hyun and Cho's manager were like hyenas on set. They were knocking on my room door every night. It was like hell. They were so frenzied with it [sex], it seems like that was the goal, not filmmaking," she said.
Called to the director's room ostensibly for script meetings, C says she often witnessed or heard bit players coerced into sex and started to wonder if that was the status quo for a Kim Ki-duk film.
Eventually, Actress C alleges that both Kim and Cho raped her. When Cho's manager tried to do the same and failed, she says Kim later berated her for not giving in to him "once".
But Actress C says once Cho and Kim had raped her, they constantly expected more: "I had a lot of clothes ripped there. But it wasn't as bad as what the bit players went through. I wasn't in my right mind then. None of us could take care of or comfort anyone else – we were all out of our minds."
She added, "Cho and Kim have a lot of victims who are all afraid of them because they have money and power and can make what they [the victims] say sound trifling."
Cho
On February 24, when #metoo sexual molestation allegations first came out against Cho, the actor quickly apologised and resigned his position as executive director of DMZ International Film Festival (DMZ Docs).
Three days later, Kyungsung University students made public accusations of sexual molestation at which point he resigned his post as a professor there.
The next day, producers of cable broadcaster tvN's series Cross, in which Cho features, said they were adjusting the timing of his character's being killed off so that they could "minimise" his role.
When contacted by PD Notebook, he said, "My apology statement was correct, but 80% of the stories that were circulated were distorted." He declined to say more on grounds that he was awaiting legal action.
Lost in translation
For years, many local critics and filmgoers had trouble understanding why international critics and festivals lauded Kim, whilst at home his work was often seen as brutal and misogynistic.
The programme showed Kim saying: "Abroad, on the contrary, they actually think of me as a feminist. I personally think I'm the director who probably depicts women the most delicately in Korea."
In another recent #metoo development, supporting actors Oh Dal-su and Choi Il-hwan have been cut out of the sequel to blockbuster hit Along With The Gods: The Two Worlds. After sexual assault allegations, the production confirmed their scenes will all either be reshot with different actors or cut out altogether.