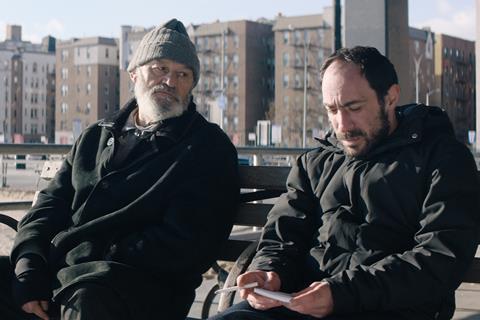 Kino Lorber announced on Wednesday (October 13) it has picked up US rights from Loco Films to Levan Koguashvili's Brighton 4th which has been confirmed as Georgia's submission for the 94th Academy Awards.
The film premiered at Tribeca Festival over the summer where it won Best Film, Best Screenplay and Best Actor awards.
Former Olympic wrestling champion Levan Tediashvili plays to type as a former Olympic wrestling champion who travels from his home in the Republic of Georgia to visit his son Soso in the Russian-speaking neighborhood of Brighton Beach, Brooklyn.
There he finds his son, living in a shabby boarding house populated by fellow Georgian immigrants, not studying medicine as he had claimed but working for a moving company and $14,000 in debt to a local mob boss. Giorgi Tabidze plays the son.
"Levan Koguashvili offers a textured portrait of the Georgian immigrant community in Brooklyn shot through with humor and levity," said Kino Lorber SVP Wendy Lidell. "His film strikes as a keen reflection on cultural displacement and a gripping family drama about filial relationships and sacrifice. We're proud to step into the ring with this worthy contender."
Lidell brokered the acquisition with Laurent Danielou of Loco Films. Kino Lorber will release Brighton 4th theatrically in the US in January 2022 followed by a digital release on Kino Now and other TVoD platforms as well as home video.