Monster epic helps Chinese box office rebound after falling for five straight weeks.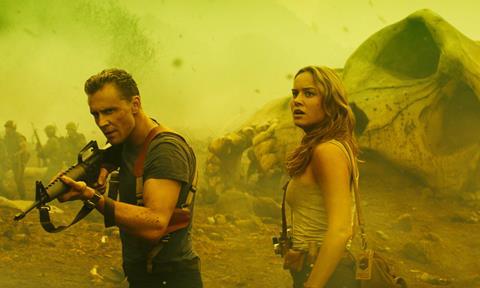 Thanks to the mammoth opening of Kong: Skull Island, the Chinese box office finally re-bounced last week (Mar 20-26), by approximately 32% week-on-week, after falling for five consecutive weeks.
Warner Bros's second MonsterVerse film, Kong: Skull Island, was off to a terrifying start with $71.70m from its three-day debut, taking approximately 58% of the week's market share, which was also approximately 17% bigger than its North American opening weekend three weeks ago.
It was also the second biggest opening this year for a non-Chinese film, after Resident Evil: The Final Chapter. It is expected to hit the local RMB1 billion ($140m) benchmark as its opening was almost equivalent to Zhang Yimou's monster epic The Great Wall.
Beauty And The Beast was pushed to second position with $28.07m. Standing at $75.46m after 10 days, Disney's live-action remake of its beloved animation has now surpassed Cinderella, also a Disney live-action fairy tale, and has become the most successful musical in China.
A Dog's Purpose continued to show strong traction in its fourth week with $8.68m for a 24-day total of $84.32m. The family film about a devoted dog is now definitely a dark horse as it has become the fourth highest grossing non-Chinese film this year, even better than Rogue One: A Star Wars Story.
Local comedy Top Funny Comedian: The Movie opened in fourth with $6.96m from its first three days. Originally scheduled for Chinese New Year, it is based on a popular variety show of the same name which features China's top comedians, Guo Degang, Yue Yunpeng and Zhang Xiaofei. Rowan Atkinson was roped in to reprise his role as Mr Bean.
Logan followed in fifth with $3.85m for a 24-day total of $104.97m. Fox's Wolverine spin-off has surpassed 2014's X-Men: Days Of Future Past to become the second highest grossing film in the X-Men series, after 2016's X-Men: Apocalyse. It is now the third highest grossing non-Chinese film this year.
Sony's Resident Evil: The Final Chapter finished its run on Saturday and added $1.52m for a 31-day total of $160.99m. It is now the second highest non-Chinese film this year, closely behind XXX: The Return of Xander Cage.
The re-release of 2009's Hong Kong animation McDull, Kung Fu Kindergarten earned $0.53m for $11.90m after 10 days; ahead of Illumination Entertainment's animated musical Sing on $0.35m for $30.76m after 38 days.
Last year's Golden Horse Awards best film The Summer Is Gone took $0.33m from its first three days. Shot in black-and-white, the coming of age drama is the first feature of independent Chinese director Zhang Dalei.
Local horror Haunted Sisters rounded out the chart with $0.26m for $0.58m after 10 days.
New releases include The Devotion Of Suspect X, The Missing and Extraordinary Mission, all booked for Mar 31.