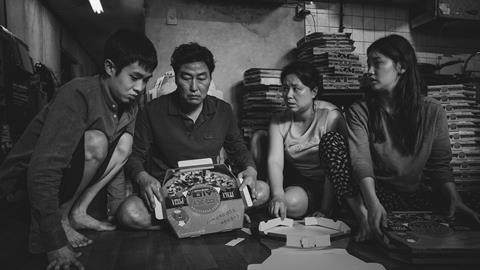 South Korea's film industry is seeing the negative effects of the COVID-19 coronavirus, following a sharp spike in the number of infections in the country, with cinema attendance falling, events cancelled and releases such as Parasite (B&W Version) and Disney/Pixar animation Onward postponed.
Hwang Jaehyeon, communications team leader at leading exhibitor CJ CGV, has been studying admissions numbers on the Korean Film Council (KOFIC)'s integrated ticketing system, Kobis.
"Cinemas are taking a sharp hit. The atmosphere in society is of extreme reluctance to take part in outside activities and that includes cinema-going. Admissions have gone down a third compared to the same period last year," Hwang said.
Hwang added that there were no huge crowd-pleasers in the beginning of this year to rival last year's action comedy hit Extreme Job, which drew an impressive 16 million admissions after release on January 23, 2019. However, he also pointed out:
"After director Bong Joon Ho's Parasite won at the Academy Awards on February 10 [Seoul time], the following commemorative weekend of February 15-16 saw some vitality bounce back to cinemas. But after a sudden spike in confirmed cases in certain areas, the past weekend of February 22-23 saw the situation suddenly change with people becoming reluctant to go out.
"Admissions dropped more than 50% from the weekend February 15-16 compared to the weekend of February 22-23. Tuesday, February 25, had the worst weekday admissions record since 2004, when Korea had many fewer cinemas, less developed infrastructure and numbers. What's even more concerning is the coming weekend looks like the difficulties will only get worse."
According to the Korea Centers for Disease Control and Prevention (KCDC), yesterday (February 26) saw the biggest spike in confirmed cases in a single day, 284, bringing the country's total to 1,261, among which there have been 12 deaths, as of 4pm, Seoul time.
The National Medical Center in a briefing yesterday said that South Korea's number of confirmed cases will likely increase in the coming days, based on China's precedent of seeing a peak in cases about two months into the outbreak. South Korea saw its first case on January 20, so numbers could peak and start going down around March 20.
With the South Korean school year normally starting March 2, after a long winter vacation, late February to March is not traditionally considered a high season for big releases. On February 23, when the government raised the virus warning level to 'severe', the Ministry of Education told kindergarten, elementary, middle and high schools to delay a week in opening.
A slew of films have announced release postponements and cancellations of events such as stage greetings and talks with audiences. Disney/Pixar's Onward was originally set for March 5, but has been moved to April with a specific date yet to be announced.
Other postponed releases include Yoon Sung-hyun's much-awaited thriller, Time To Hunt, featuring Parasite star Choi Woo-shik. The film had its world premiere February 22 in Berlinale Special Gala, but distributor Little Big Pictures and producer Sidus sent out a notice stating: "We have decided to strictly adhere to the government's advice to refrain for the time being from crowded public events due to the nationwide spread of the COVID-19 virus", adding that this was to put safety first and take precautions against possible further spread of the virus.
Parasite: Black & White was originally scheduled to open in South Korean cinemas yesterday, but distributor CJ Entertainment and production company Barunson E&A also sent out a notice two days earlier, announcing the release will be postponed to a later date, yet to be decided. CJ Entertainment had no plans for any other releases heading into March, possibly denoting the quietness of this period in the release calendar
Films that are carrying on with their releases include director Lee-Kil Bora's Untold, an independent documentary examining the aftermath of South Korean troops' massacre of civilians during the Vietnam War. The film won the BIFF Mecenat Award Special Mention in the Busan International Film Festival's Wide Angle Documentary Competition in 2018 and is set for release today through Cinema Dal.
Among more light-hearted fare, distributor Challan has Lucky Chan-sil directed by Kim Cho-hee set to open on March 5. The film, about a down-and-out film producer moving on with life and love, won the Directors' Guild of Korea Award, the CGV Arthouse Award and the KBS Independent Film Award at last year's Busan film festival.