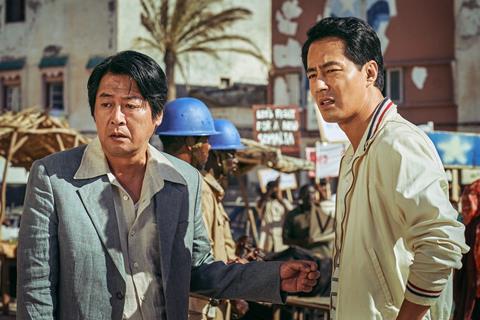 South Korean exhibitors and broadcasters are offering major incentives to two local big-budget films – Lotte Entertainment's Escape From Mogadishu and Showbox's Sinkhole – that have delayed their releases due to the Covid-19 pandemic.
Members of the Korea Theater Association – including leading multiplex chains CJ CGV, Lotte Cinema and Megabox – have declared they will forgo the usual 50:50 split of ticket sales between theatres and distributors until box office reaches 50% of each of the film's respective total budgets including production costs and P&A.
The deal was mediated by the Korean Film Council (KOFIC) to support the distributors, which are hesitant to take losses at the box office, and exhibitors in dire need of local summer tentpole releases to revive their businesses. Local box office fell by almost 74% last year and has yet to recover.
In addition, KOFIC has also negotiated a deal with the Korea IPTV Broadcasting Association – which includes telecom carriers KT, SK Broadband and LG U+ as members along with cable operator Home Choice – that will provide the two distributors with 80% of sales revenue when the two films are released on their services. This is around 20 percentage points higher than the current standard distribution rate.
From February to May this year, theatre owners had tried offering distributors an extra $0.90 (KW1,000) for every ticket sold at directly-operated cinemas but it was not enough to encourage the release of big-budget films, which still risked losing money at the box office.
"We need highly-anticipated Korean films, which recently have been unable for a while to release in theatres, to open during the summer to draw in audiences," said Hwang Jae Hyeon, CJ CGV analyst and communications team leader, speaking to Screendaily.
"As I know it, Escape From Mogadishu is budgeted at around KW22bn-KW25bn ($19.6m-$22.3m) and Sinkhole is at KW14bn-KW15bn ($12.5m-$13.4m) so they are carrying a lot of risk before they can break even at the box office. This is why we have come up with this extraordinary measure.
"Of course, we expect the films to score enough at the box office to reach the threshold of making back half their budgets and more – otherwise we wouldn't be able to live. There is a consensus that this will bring about a synergy effect for other film releases as well."
Escape From Mogadishu, directed by Ryoo Seung-wan (Veteran), is an action drama starring Kim Yoon-seok, Zo In-sung and Huh Joon-ho in which the embassies of North and South Korea are forced to cooperate in order to escape the outbreak of war in Somalia's capital.
Sinkhole, directed by Kim Ji-hoon, stars Cha Seung-won, Kim Sung-kyun and Lee Kwang-soo. It follows a man whose house is swallowed up by a sinkhole while he is throwing a housewarming party.
The films' release dates aren't yet fixed but they are anticipated to open between late July and mid-August.