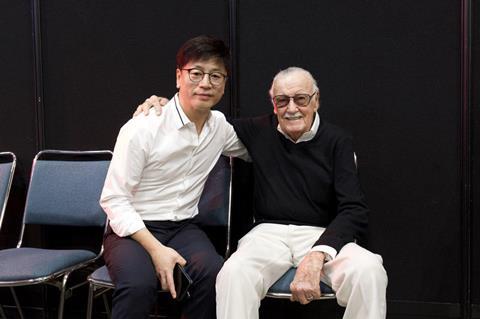 Korean director Kim Yong-hwa (Mr. Go, 200 Pounds Beauty) is set to team up with Stan Lee's production company POW! Entertainment and Luka Productions to produce Prodigal, a superhero film about "paternal love".
They launched the project at LA Comic Con this weekend, with Kim's production company Dexter Studios tentatively announcing it as his first Hollywood film to the press in Korea today (Oct 30).
Alfred Gough and Miles Millar, known for Spider-Man 2 and I Am Number Four are attached to work on the script.
Dexter Studios stated the Prodigal production team cited Kim's insight into "humanism" in his previous works, and, after seeing footage for his upcoming Along With The Gods, they felt he would be able to carry off Prodigal with his world view and technique. Based on a web cartoon of the same name, Along With The Gods recently pre-sold to a slew of territories including the US, Canada, Taiwan, Hong Kong, Singapore and Indonesia. The film is set for local release December 20.
Kim said he was "deeply moved" by the fatherly love seen in the script he was given, noting it could work with Korean and global audiences.
"I identified with Stan Lee on many aspects about the direction for a new [kind of] Hollywood superhero that has previously been difficult to see," he said, explaining why he is attracted to directing the film.
Contract details are still under discussion, but the producers are aiming to release Prodigal in 2019.