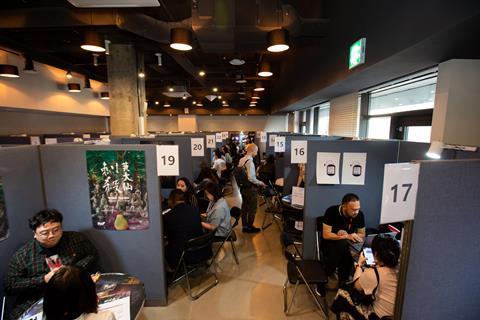 South Korea's Bucheon International Film Festival (Bifan), Asia's largest genre film festival, has unveiled 32 titles from 18 countries for this year's Network of Asian Fantastic Films (NAFF) project market.
The 13 titles selected for the It Project strand include The Othered, from Vietnamese director Ham Tran, whose family sci-fi Maika premiered at the virtual Sundance in January and was picked up for distribution by Well Go USA Entertainment. East Films, which produced Maika, will also make The Othered as a Vietnam-Canada-US co-production.
Scroll down for full list
Further titles include Left Hand Of The Devil, a Japan-Ireland co-production from Dublin-based Prelude Content, directed by Kameyama Mutsumi; and Giant Polka-dotted, an Iranian feature from filmmaker Amir Masoud Soheili, produced by Behnegar Film.
NAFF invited series projects for the first time last year and noted an increase in submissions of series projects this year. The selection includes Taiwan-Malaysia co-production Bloody Smart, and Korean project Heartbreak Blues.
The latter is among 10 titles chosen for NAFF's Project Spotlight: Korea section, which also includes Journey To Gyeong-ju from director Kim Mijo and Ecolife from Park Hyongyong, produced by HaeGang Films.
Further sections include Work in Progress, which offers post-production support and this year selected seven titles.
Some 217 submissions from 36 countries were received, up from 202 projects in 2021. One-to-one meetings will take place with producers, investors, and distributors both on and offline from July 9-12.
Previous NAFF projects include Kevin Ko's horror Incantation, which was showcased in 2019 and has become Taiwan's second highest grossing local horror of all time since its release in March. Others include sci-fi drama Vesper, directed by Lithuania's Kristina Buozyte and France's Bruno Samper, which will play in competition at Karlovy Vary in July and has already been sold to key territories around the world.
The 26th Bifan is set to run July 7-17 with both online and offline screenings and audience events.
NAFF Project Market 2022
Project Spotlight Korea
Black Wound (S Kor)
Dir. KIM Sunghoon
Pro. SEO Janghyun
Journey To Gyeong-ju (S Kor)
Dir. KIM Mijo
Pro. PARK Sunhye
Deepfake (S Kor)
Dir. PARK Yoochan
Pro. KIM Jongmin
Reboot (S Kor)
Dir. KIM Sooyoung
Pro. KIM Dong h.
The Shining Empire (S Kor)
Dir. KIM Youngki
Pro. KIM Hyunjeong
The Tenants (S Kor)
Dir. YOON Eunkyoung
Pro. AHN Mongsik
Ecolife (S Kor)
Dir. PARK Hyonyong
Pros. YOON Gigi nakyong, JUNG Euntaek
Wangja (S Kor)
Dir. CHUNG Sujin
Pro. HAN Jin
The Well (S Kor)
Dir. LIM Daewoong
Pro. BAE Suhong
Last Mankind (S Kor)
Dir. HUH Gun
Pro. BAEK Siwon
It Project
Bloody Smart (Tai-Malay)
Dir. HSIEH Chun-yi
Pro. HSU Guo-Lun, Joanne Goh
Carrion (Bra)
Dir. Renata Pinheiro
Pro. Andre Pereira
Cucaracha (Sing)
Dir. Jacen Tan
Pro. Andrew Ngin
Cursed Circus: Sweet Vengeance of the Tale Teller (Indo)
Dir. Fajar Nugros
Pro. Susanti Dewi
The Cursed Land (Thai)
Dir. Panu Aree, Kong Rithdee
Pro. Nonzee Nimibutr
Deliver Us from Hell (Col-Arg)
Dir. Juan Diego Escobar Alzate
Pros. Roxana Ramos, Fernando Díaz
Holy Pest (Iran)
Dir. Amir Masoud Soheili
Pros. Sina Mehrad, Komeil Soheili, Jooyoung Soheili
Last Resort (Phil-Malay)
Dir. TAN Chui Mui
Pro. Arleen Cuevas
Left Hand of the Devil (Jap-Ire)
Dir. KAMEYAMA Mutsumi
Pros. Paul Fitzsimons, Anthony Alleyne, YAMADA Yurina, URANO Daisuke, OKABAYASHI Shuhei
A Myth (India-Nepal)
Dir. Maaria Sayed
Pro. Alessandro Alpini, Sushant Shrestha
Omionna (Jap)
Dir. Koji Shiraishi
Pro. Chris Huang, Eisei Shu
The Othered (Viet-Can-US)
Dir. Ham Tran
Pros. Linh Phan, Thanh Tran, Anderson Le
Posthouse (Phil)
Dir. Nikolas Red
Pro. Iana Celest Bernardez
Blood Window
Upiro (Sp)
Dir. Oscar Martin
Pro. Elena Muñoz
Fantastic 7
Seoul Horror Story (S Kor)
Dir. KIM Hyunjin
Pro. LEE Dongha
Works in Progress
The Comedian (S Kor)
Dir. JEON Seungpyo
Pro. BAE Sijin
Cinematic Novel (S Kor)
Dir. KIM Hyunwoo
Pro. KIM Hyunwoo, KIM Jiyeon, PARK Sohye
Annapurna (S Kor)
Dir. HWANG Seungjae
Pro. JUNG Philju
My Missing Aunt (S Kor)
Dir. YANG Juyeon
Pro. KO Duhyun, KANG Sarah
A Good Boy (S Kor)
Dir. SON Kyoungwon
Pro. JUNG Jihye
Oversteer (Sing-Malay-Thai-HK)
Dir/Pro. Derrick Lui
Jinju's Pearl (S Kor)
Dir. KIM Lokkyoung
Pro. PARK Jinyon