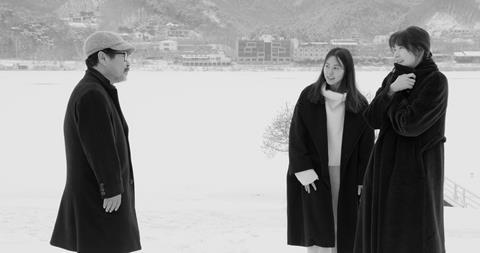 Korean sales agent Finecut has announced deals on Hong Sangsoo's latest film Hotel By The River, period creature feature Monstrum and comedy Too Hot To Die.
Hotel By The River made its world premiere at the Locarno film festival where lead Ki Joo-bong won the Golden Leopard for best actor for his performance as a wistful old poet who, thinking he is about to die, summons his two estranged sons to a riverside hotel. The cast also includes Hong regulars Kim Minhee and Song Seonmi from On The Beach At Night Alone and Kwon Haehyo and Yu Junsang from Yourself And Yours.
The film sold to France (Les Acacias), China (Time-In-Portrait Entertainment) and Taiwan (AV Jet International). The Cinema Guild, which is also handling US distribution for Hong's Berlinale title Grass, took US distribution rights to Hotel By The River, which will also screen at AFI Fest in the World Cinema section later this month.
Finecut also sold Huh Jong-ho's Monstrum to Japan (Inter Film) in addition to a slew of previously announced deals including North America and the UK (AMC Networks) and Thailand (Mono Film). The film won the audience award in the Sitges Film Festival's Panorama Fantastic section.
Park Jin-young's feature debut Too Hot To Die sold to Taiwan (Apex Success Global) and Singapore, Malaysia and Hong Kong (Clover Films). The film focuses on a trio of men whose attempts to commit joint suicide take an unexpected turn when they are joined by a femme fatale.