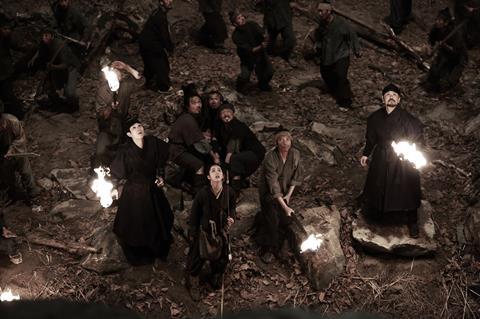 South Korean sales agent Finecut has picked up period creature movie Monstrum ahead of the European Film Market (EFM).
Currently in post-production, the film budgeted at more than $11m is directed by Huh Jong-ho (Countdown).
Monstrum stars popular veteran actor Kim Myung-min (A Day, Pandora), up-and-coming actor Choi Woo-shik (Okja, Train To Busan) and Lee Hye-ri, a member of K-pop group Girl's Day, making her feature debut.
Inspired by a true record from the Joseon Dynasty, Monstrum is set during an epidemic outbreak where rumors are spreading about a fearsome man-eating creature that is wrecking the plague-infested capital. Kim plays an unsung military official, Yun Kyum, who returns to the city after decades of seclusion under the King's orders. He forms a team of warriors to fight off the beast with his daughter Myung, who has an unusual flair for archery and ancient medicine, and the King's messenger Hur.
Taewon Chung, whose credits include Operation Chromite, Iris and Three Kingdoms: The Resurrection Of The Dragon, is producing with his company Taewon Entertainment.
CGI specialist company MOFAC, whose credits include Sector 7, Haeundae, The Suspect and Chinese Zodiac, is in charge of CGI effects.
Kidari Entertainment Corp. (A Special Lady, The Vanished) is aiming for a wide release locally later this year.