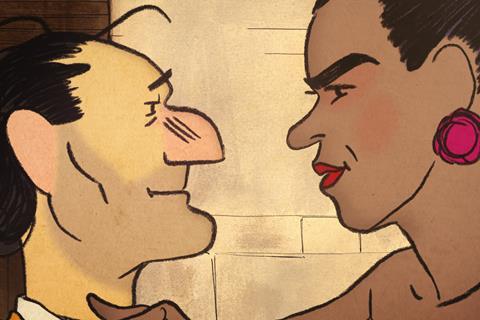 South Korea's Jeonju International Film Festival (JIFF) has announced its second pandemic edition will again run as a hybrid event, but with more physical screenings than last year.
The festival is set to run April 29 to May 8 in cinemas and venues around Jeonju as well as on streaming platform wavve. JIFF has selected 186 films from 48 countries, of which 141 will screen online.
"Last year's Jeonju International Film Festival was [one of] the first to open after the pandemic struck the world so we didn't have a single reference to consult and had to create every method from scratch," said festival director Lee Joon-dong, who had been newly appointed a few months ahead of that edition.
Last year, as the virus spread, the festival hurriedly announced that it was pushing back its 21st edition by nearly a month and would run May 28 to June 6 in the interest of public health and safety.
The event went predominantly online, while exclusively screening competition titles in theatres without audiences. Only jury members and related filmmakers were allowed to be present for their screenings with social distancing and quarantine measures in place. Later in the year, local physical screenings were held in what JIFF termed "long-term" festival screenings.
This year, the festival is skipping the long-term screenings and will sell tickets to socially distanced theatre screenings for audiences.
"In terms of our festival identity, we think the most important thing is that audiences and filmmakers can meet directly in cinemas," said Lee.
"This year, fortunately, we have accumulated data and level-by-level manuals that we can follow for quarantine measures – or put to use more strictly at half a level higher than the measures, and organizing committee chairperson and Jeonju mayor Kim Seung-su has also actively supported us so that we can meet together in person this year. Overseas guests will be connected online after screenings so that audiences can meet with them as well."
The festival will open with Srdan Golubovic's Berlinale-awarded Father and close with cartoonist Aurel's feature debut Josep, which recently won France's Cesar Award for best animated feature.
Competition titles
The International Competition section of first and second-time directors will feature films such as Mohamed Fekrane and Gustavo Cortes Bueno's Belgium-Morocco-Spain co-production Final Round, making its world premiere, and Ogawa Sara's Japanese title The Goldfish: Dreaming Of The Sea, making its international premiere.
The Korean Competition of first and second-time feature directors is made up entirely of world premieres. Programmer Moon Seok noted that many deal with social minorities. These include Ryu Hyung-seok's Corydoras, a documentary about a physically-challenged poet, and Byun Gyun's documentary Coming To You, about transgender and gay children and their parents.
The International Competition jury comprises International Film Festival Rotterdam (IFFR) head Vanja Kaludjercic, actress Bae Jongok (Innocence), The Wild Goose Lake director Shen Yang, Freedom director Albert Serra, and Secret Sunshine producer Lee Hanna.
The festival's annually funded Jeonju Cinema Project (JCP) of three feature films will include the world premieres of Min Hwan-ki's The Man With High Hopes, Ted Fendt's Outside Noise and Im Heung-soon's Hug.
JIFF will also hold an additional special screening of Lee Seungwon's Three Sisters, which was in last year's JCP trio.
The festival's special focuses include a showcase on independent women filmmakers such as South Korean 1970s military dictatorship-era experimental filmmaker Han Okhi, and coronavirus era films such as The First Wave. Milan In The Time Of Covid-19 making an international premiere, and Ai Weiwei's Wuhan lockdown documentary Coronation.