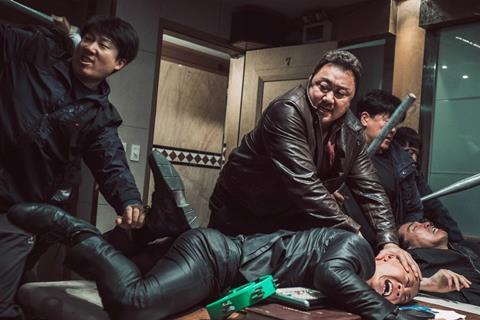 South Korea's K-Movie Entertainment has pre-sold The Roundup, a sequel to 2017's The Outlaws, to a raft of territories led by Japan, where Hian has picked it up.
Starring Don Lee (aka Ma Dong-seok from Train To Busan), The Roundup has also sold to Taiwan (MovieCloud), Singapore, Malaysia, Indonesia and Vietnam (Clover Films), Hong Kong (Edko Films), Mongolia (Mongol Films Distribution) and France (Metropolitan Filmexport).
Hian is also producing a Japanese remake of The Outlaws, while an Indian remake starring Salman Khan is set for release later this year (M-Line Distribution handled sales on the original film).
The Outlaws clocked up 6.9 million admissions and $50m at the local box office, according to the Korean Film Council (KOFIC). Production companies Hong Film and BA Entertainment are developing third and fourth instalments of the crime action series, which will also star Lee as the "beast cop" who heads up a ragtag group of detectives.
In The Roundup, he heads to Southeast Asia to extradite a suspect but, on arrival, gets involved in investigating a vicious killer who has been targeting tourists for years.
Currently in production, the sequel aims to wrap this summer. Son Sukku (Hit-And-Run Squad) also stars. It is the feature debut for Lee Sangyong, who was previously assistant director on films such as The Outlaws, Long Live The King and A Single Rider.
Don Lee is due to have a featured role in Marvel Studios' production of The Eternals directed by Chloe Zhao, which is scheduled for release in cinemas later this year and is expected to boost the Korean star's international profile.
"Buyers have been telling us they are betting on Don Lee to become even more well-known after [The Eternals]. The Roundup release date hasn't even been set yet, but it speaks to the strength of the content and the actor that these top distributors have bought the film," said K-Movie Entertainment head of sales Sylvie Kim.