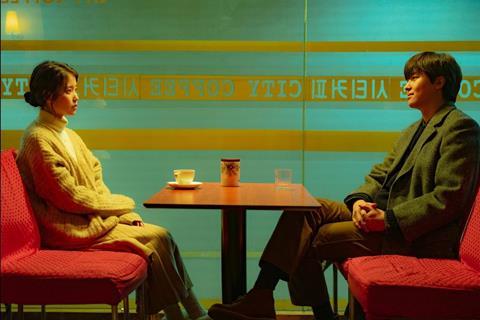 Information and communications technology-based contents and commerce provider kth (Korea Telecom Hitel), a subsidiary of Korea Telecom (KT), is launching its international sales team at Busan's Asian Film Market with a slate of new projects.
The company owns a slate of original IP-based film content and more than 100 distribution channels including IPTV, mobile, VOD and home entertainment. It has previously been doing acquisitions and distribution as well as partial financing of films. Starting last year, kth also stepped up as main financier on some feature projects, starting with On Our Wedding Day from director Lee Seok-Geun.
This year, they are the majority financier on Love, Again, which is being released locally on October 17 (Contents Panda represents international sales on the title). The romantic comedy is directed by Park Yong-jip (Miss Gold Digger) and stars Kwon Sang-woo (The Accidental Detective), Lee Jung-hyun, Lee Jong-hyuk and Sung Dong-il.
At Busan, kth is launching international sales on a slate including drama Shades Of The Heart, the latest from The Table director Kim Jong-kwan about a novelist returning to Korea after his divorce; Sweet-And-Sour (working title), directed by Lee Kae-byok (whose Cheer Up Mr. Lee is set for a French-language remake by Studiocanal); and The Confession (working title), directed by Yoon Jong-seok (Marine Boy).
As announced yesterday (Oct 4), The Confession will star Yunjin Kim from US TV series Mistresses and Lost alongside local heartthrob So Ji-sub (Be With You). The film is being produced by Realies Pictures, whose credits include the Along With The Gods franchise, and will feature So as a crime suspect out to prove his innocence and Kim as a lawyer trying to find out the truth.
The company is also developing a number of Korean-language remakes of films including the Dean Devlin-directed horror thriller Bad Samaritan, Thai action-comedy Oversize Cops and Japanese drama Five Million Dollar Life. The remakes are being developed with The Handmaiden producer Jong-Dae Kim's company Balpo Plan.
Further features on the kth slate include a remake of 2017 crime thriller Extortion with Film K, which produced the disaster hit Exit; The Knights Of Fire (working title), about Joseon Dynasty firefighters; and an action thriller based on web comic Ten, which clocked up 140 million views online.
The company is also working towards signing an MOU (memorandum of understanding) with major Korean investor and distributor Showbox by the end of the year.
Hana Choi, manager of acquisition and sales, is heading up the new kth sales team at the Asian Film Market.