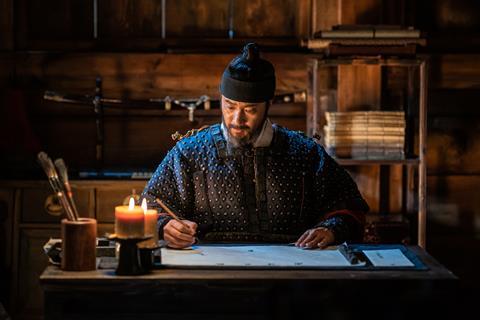 South Korea's Lotte Entertainment has pre-sold historical action film Hansan: Rising Dragon to 99 countries led by Japan (Twin), Taiwan (Movie Cloud), Australia and New Zealand (Signal Pictures).
Other deals struck include ones to Germany and German-speaking territories (Koch Films), South Asian Association for Regional Cooperation (SAARC) territories (Star Entertainment) and, as previously announced, North America (Well Go USA).
Hansan: Rising Dragon is the second film in director Kim Han-min's trilogy about Korea's legendary admiral Yi Sun-shin, an innovative and strategic naval commander who defeated the much larger Japanese invading fleet during the Imjin War (1592-1598).
The first in the trilogy, The Admiral: Roaring Currents, starred Choi Min-shik as Yi in the Battle of Myeongryang. Released in summer of 2014, it quickly became South Korea's biggest box office hit of all-time and remains so to date with more than 17.6 million admissions.
The second in the trilogy stars Park Hae-il (Decision To Leave) as the admiral at the Battle of Hansan, five years before the events in the previous film.
Hansan: Rising Dragon also features Byun Yo-han, Kim Hyang-gi, Kim Sung-kyu, Kim Sung-kyun and Ok Taec-yeon.
"We are excited to bring North American audiences this much-anticipated second entry in the Yi Sun-shin trilogy," said Doris Pfardrescher, president and CEO at Well Go USA Entertainment. "The vast success of the first film speaks volumes about the real-life admiral's impact on history, and we are confident that Hansan: Rising Dragon will continue to captivate viewers while also shedding light on a very fascinating time in Korean history."
The film debuted atop the local box office chart, ahead of Minions: The Rise Of Gru, with 386,189 admissions on Wednesday, July 27, according to the Korean Film Council.
Well Go USA is set to release the film in North America on July 29 while Signal Pictures will release it in Australia and New Zealand on August 4. Movie Cloud will release it in Taiwan August 19.