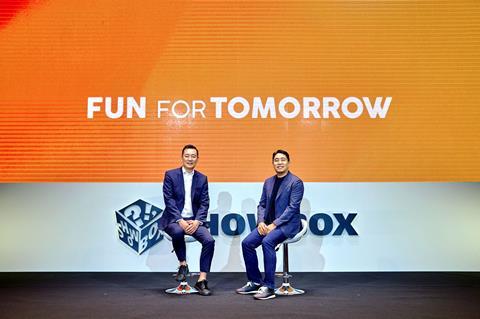 In South Korea, major investor-distributor Showbox has announced plans to increase its global competitiveness with a new infusion of capital and a creator-centred business model for K-contents.
At a media event in Seoul on June 15, Showbox CEO Do Soo Kim revealed the company had received an investment of $108.4m (KW140bn) from Silicon Valley-based Maum Capital Group (MCG) in April and plans to use it to expand its platform value chains to metaverse and NFTs.
Kim said the company is focusing on partnering with creators to develop intellectual properties (IP) that can be expanded to multiple formats – for example, films that can be adapted into series, games, webtoons (aka online comics) and/or web novels.
He unveiled 27 of their more than 40 IP in development and production, including A Hard Day and Tunnel director Kim Seong-hun's Kidnapped (working title), starring Ha Jung-woo and Ju Ji-hoon. Based on a true hostage crisis story in 1980s Beirut, the film is set to wrap production in August, aiming for a summer 2023 release.
Showbox is also readying the pandemic-delayed release of last year's Cannes title Emergency Declaration for this August. The film's director Han Jae-rim is working on a new film for the company: based on a popular webtoon set in 1935 Japanese-occupied Seoul, the story deals with a series of mysterious incidents surrounding a woman.
Longlisted for the 2022 International Booker Prize, Love In The Big City, written by Sang Young Park, will see a story from it adapted into a film by Lee Eon-hee (Missing) at Showbox as well.
In addition to Korean remakes of Chinese, Japanese and Spanish content in the works, the company is also set to produce documentary/reality series such as Another Record 2, directed by Rotterdam-awarded Yoon Dan-bi (Moving On), and whisky travelogue Angel's Share, directed by Kim Jong-kwan (The Table).
Showbox has been behind five of the 26 films in South Korean box office history that surpassed the local landmark record of 10 million admissions: Taegukgi (2004), The Host (2006), The Thieves (2012), Assassination (2015) and Taxi Driver (2017).