Lithuanian documentaries will be in the spotlight at this year's 55th Krakow Film Festival (May 31-June 7) which opens with Krzysztof Kopczynski's The Dybbuk. A Tale Of Wandering Souls.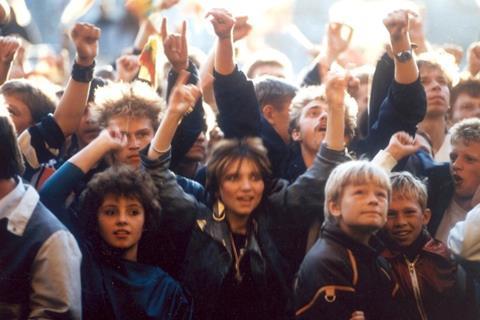 It marks is the fourth time Krakow has selected a guest country and will include a special screening of Giedrė Žickytė's How We Played The Revolution, produced by Dagne Vildziunaite, one of Screen's Future Leaders in Cannes last month.
Vildziunaite also has the latest film by Žickytė, Master And Tatjana, screening in the festival's International Documentary Competition.
She will also be participating with such colleagues as the Lithuanian Film Centre's chief Rolandas Kvietkauskas, filmmaker Audrius Stonys and broadcaster Izolda Keidosiute of LRT in a conference during the festival to discuss the various strategies adopted by the documentary community in her country .
Other films shown in the "Focus on Lithuania" will include Linas Mikuta's Dinner, Rimantas Gruodis' Lucky Year, and Ričardas Marcinkus' Final Destination.
Industry Zone
As in previous years, the festival's Industry Zone features a digital video library – the Krakow Film Market – with 300 titles from around the world, including films proposed by the festivals in Leipzig, Nyon, and Thessaloniki as well as Swiss Films, East Silver and the Lithuanian Film Center.
In addition, there will be a master class by the Estonian animator Priit Pärn, this year's Dragon of Dragons Laureate, the new sections Student Project Market for aspiring Polish animators, and KRK Interactive dedicated to audiovisual storytelling in the age of digital technology, as well presentations of Polish documentaries in development (Docs To Start) and 12 works in progress (Docs To Go!).
The latter showcase will include footage being presented from Piotr Stasik's 21 x New York which is being produced by Agnieszka Wasiak of Lava Films, the company co-founded by the Polish Future Leader Mariusz Wlodarski.
The Industry Zone will also be organising one-to-one meetings for accredited professionals with such industry figures as HBO Europe's Hanka Kastelicova, Kazz Basma of the UK's Sideway Films, sales agents Patrizia Mancini (Wide House), Stephanie Fuchs (Autlook Filmsales) and Aleksanda Derewienko (Taskovski Films) and festival programmers from Cork, Trieste, Clermont-Ferrand, and IDFA.
International guests due to come to Krakow will also include another of Screen's Future Leaders, Germany's Eva Blondiau from the Cologne-based production company Color of May.
Wajda in Krakow
The festival will be celebrating the 100th anniversary of the birth of the theatre director, painter and screenwriter Tadeusz Kantor with a special section entitled Kantor. Master Shot showing documentaries related to the artist's work, including a screening of Andrzej Wajda's 1976 film Tadeusz Kantor, Dead Class.
The veteran director and his wife Krystyna Zachwatowicz will be in Krakow on June 1 to present the film.
Competitions
The Berlinale Panorama's Wieland Speck will be heading an international jury who will decide on the winners in this year's International Documentary Competition from a line-up including Alessandro Abba Legnazzi's Roadstead, Philip Cox's Love Hotel, Johanna Schartau's Grandmother Ruth And Her Daughters, Aginieszka Zwiefka's The Queen Of Silence, and Peter Akar's Sing Your Heart Out.
In addition, the internationally respected Polish-born composer and performer Jan A.P. Kaczmarek will serve as the chairman for the DocFilmMusic competition.
This competition will include Ayat Najafi's No Land's Song, Brett Morgen's Kurt Cobain: Montage Of Heck, and Alex Gibney's Mr Dynamite: The Rise of James Brown.