Protagonist Pictures to introduce thriller to Cannes buyers next week. ICM Partners represents North America.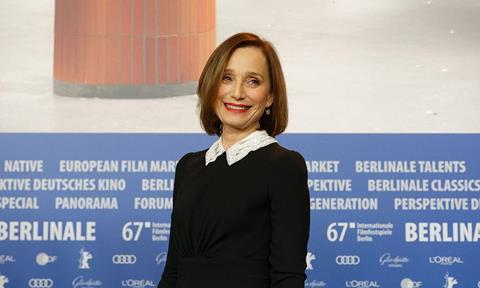 Kristin Scott Thomas has signed on to star as BMW heiress Susanne Klatten in the thriller Paramour.
The film is inspired by the true story of the reclusive Klatten – the richest woman in Germany – who embarked on an affair with Swiss playboy Helg Sgarbi while unaware of his sinister intentions.
Alexandra-Therese Keining will direct Paramour from a screenplay by Jordan Katz. Protagonist will commence international pre-sales in Cannes and ICM Parnters handles North American rights.
The US-German co-production set to shoot in 2018. Meredith Vieira Productions' Amy Rapp developed the project and is producing with Joe Neurauter of Occupant Entertainment. Meredith Vieira serves as an executive producer.
"Paramour is a thrilling and provocative story about the dangers and responsibilities that one uber-wealthy woman is forced to confront," Protagonist CEO Mike Goodridge said.
"Inspired by the extraordinary true story of Susanne Klatten and Helg Sgarbi, Jordan Katz's script intelligently captures the intriguing dilemmas facing these two highly flawed characters.

"The combination of exciting film-maker Alexandra-Therese Keining and the always compelling star Kristin Scott Thomas make for a heady cocktail which will appeal to adult audiences around the world."
Swedish born Keining directed Kiss Me and Girls Lost, and will direct the upcoming YA adaptation Just Like Beauty
Protagonist's sales slate encompasses Directors' Fortnight selections The Rider from Chloé Zhao and The Florida Project from Sean Baker, as well as Un Certain Regard selection April's Daughter.