EXCLUSIVE: The Superman prequel series will be filmed at the new studio facility in Belfast.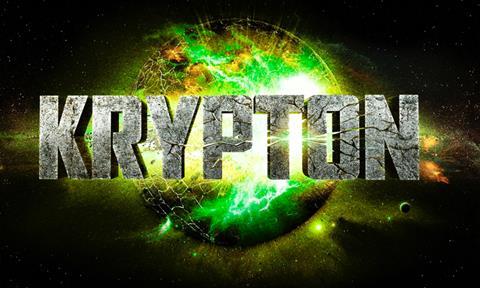 In what looks like a major coup for the Northern Ireland film and TV industry, The Man of Steel is coming to Belfast.
It has been confirmed this week that Krypton, the Superman prequel series, will be the very first production to shoot at the brand new Belfast Harbour Studios (below).
The series, made by Phantom Four in association with Warner Horizon Scripted Television for the SYFY channel, will start pre-production in Belfast this month with a shoot date of late summer.
Set two generations before the destruction of the superhero's home planet, Krypton follows Superman's grandfather (Cameron Cuffe), whose House of El was ostracized and shamed, as he fights to redeem his family's honour and save his beloved world from chaos.
Based on DC characters created by Jerry Siegel and Joe Shuster, Krypton is executive produced by David S. Goyer (Man Of Steel; Batman V Superman: Dawn Of Justice; The Dark Knight trilogy) through his Phantom Four label.
Damian Kindler (Sleepy Hollow, Sanctuary, Stargate SG-1) is executive producer and showrunner.
In addition to Cuffe, the show also stars Georgina Campbell, Elliot Cowan, Ann Ogbomo, Rasmus Hardiker, Wallis Day, Aaron Pierre and veteran Norther Ireland actor Ian McElhinney, who plays Barristan Selmy in Game Of Thrones.
New studio
The news of Krypton's arrival (confirmed by Belfast Harbour and Northern Ireland Screen) comes a little over a year after plans for the new purpose-built studios were unveiled at Cannes by Belfast Harbour.
The £20m development owned by Belfast Harbour is set on an eight-acre site on the 340-acre Giant's Park. The complex consists of two film studios, workshops which will be used for set construction and separate production offices to accommodate art departments, dressing rooms and wardrobe functions.
Given the demand for high-quality space, the scheme has also been future-proofed to accommodate additional studio and workshop space on an adjoining two-acre site.
The completion of the media complex comes as HBO have continued to use the nearby Titanic Studios for Game Of Thrones.
"We are delighted to welcome Warner Horizon to Northern Ireland," commented Richard Williams, CEO, Northern Ireland Screen. "Securing Krypton is a real coup for us and cements our position as a world-class filming location with a local and highly skilled crew-base with vast experience. The construction of the new studios by Belfast Harbour has added tremendous value to our overall proposition."