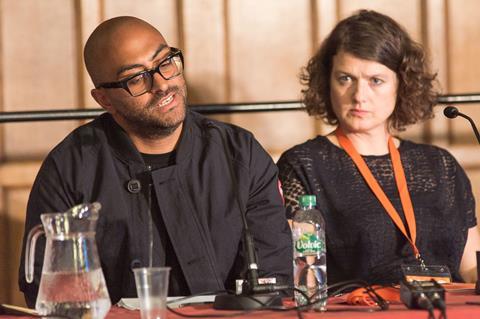 An unrepresentative workforce risks creating a 'deeply unattractive industry', said participants in the 'Not Another Diversity Panel' debate at Sheffield Doc/Fest on Sunday June 10.
Charied by Anne Morrison, board director at Women in Film & TV, issues around class, race and gender representation were discussed by a panel comprising Tom McDonald, head of commissioning, natural history & specialist factual at the BBC, Rita Daniels, an executive producer at Channel 4, Ramy El-Bergamy, features and daytime commissioning executive at Channel 4, Jaimie D'Cruz, creative director at Acme Films and director-producer Clare Richards.
"Rent has gone up exponentially at the same time that television wages really haven't," said McDonald of the challenges of starting a career in the film and TV indudstry. "It's potentially a deeply unattractive industry if wages stay as low as they are, if contracts stay as precarious as they are and if the cost of living stays where it is."
Daniels recognised a problem experienced by those who may have to take jobs they don't want to for financial reasons, "Your CV becomes diluted. Some decision makers can see that as a CV they're not attracted to. Some people can wait a year to make their amazing film, but other people have to work and pay their mortgage or their rent."
On gender Richards said, "Often the word 'bossy' is used for women. What do we value? We need to understand that people bring different qualities. It's considered OK to be assertive as a male, but not as a female."
Daniels questioned the roles expected of women in the industry, saying a woman will tend be seen as an "organiser" or a "people-person" but excluded from technical responsibilities.
In order to improve equality of representation, El-Bergamy suggested, "Targets exist because nothing has changed in 20 years – they're a necessary evil. It's an easier measure for disability or ethnicity or gender than for social class."
El-Bergamy underlined the people at the top are the ones with the power to bring about real and lasting equality: "The more key decision-makers that are from working-class, northern, BAME, disabled backgrounds, they're the ones who are really going to effect change in the long term."
McDonald offered a note of hope. "Do I think it's perfect? No. Do I think there's cause for optimism? Yes. Am I seeing really significant shifts? Yes."
In a comment piece for Screen at the start of this year's festival, Doc/Fest CEO & director Liz McIntyre recognised the diversification of power as a key issue facing the industry right now: 'We all have a part to play in examining what power we each hold or what others lack – those who provide training and mentoring; who fund and distribute films; who hire talent including crews.'
The 25th edition of Sheffield Doc/Fest runs from June 7 until June 12.