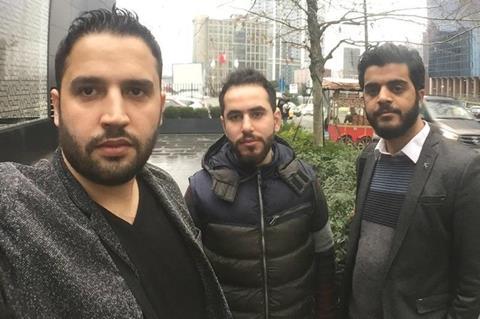 Oscar-nominated Last Men In Aleppo producer Kareem Abeed and several associates are headed to the 90th Academy Awards after it emerged on Wednesday (February 28) they have been granted travel visas to the US to attend Sunday's show.
Syrian filmmaker Abeed reapplied to the consulate general of the US in Istanbul after he, associate director Hassan Kattan, and cinematographers cinematographer Fadi Al Halabi and Thaer Mohammed were blocked by US authorities last week.
The party is expected to arrive in the US on Thursday and Friday and will join Last Men In Aleppo director Feras Fayyad, who lives in Denmark and has been in the US for the past few months.
Mahmoud, the civil defence volunteer who works for the group known as the White Helmets, is unable to travel because his organisation operates in rebel-held areas of Syria and the Al-assad regime forbids him from owning a passport.
Last week's visa denial sparked anger and a statement of support from the Academy Of Motion Picture Arts And Sciences, which said, "For 90 years, the Oscars have celebrated achievement in the art of filmmaking, which seeks to transcend borders and speak to audiences around the world, regardless of national, ethnic, or religious differences."
In a tweet on Wednesday Fayyad wrote: "Thanks for everyone involved to helping this process and thanks for all the solidarity and the effort from the American friends for facing trump ban to help us to be with our film."
Abeed is pictured at left with Kattan and Al Halabi.
Last Men In Aleppo follows several White Helmet volunteers in their daily fight to save lives in the beseiged city of Aleppo during the Syrian civil war.