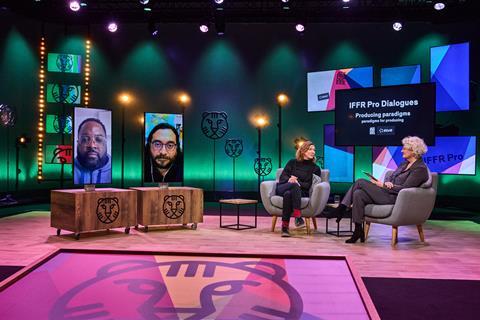 Resilience, flexibility, and a determination to explore "new routes" were flagged as fundamental attributes for producers wanting to suceed and survive the pandemic during a discussion at the online International Film Festival Rotterdam (IFFR) this week.
The panel, titled Producing Paradigms, explored how companies are restructuring, diversifying, and exploring the new landscape.
"We are in the middle of a transition, and we need to use this time to find something new," said producer Laurette Schillings of Netherlands-based Topkapi Films. She cited a new project she is heading up in Rotterdam involving an all-black cast that is being piloted with the University of Utrecht "to make it all sustainable". Schillings' credits include Paul Verhoeven's Benedetta and Thomas Vinterberg's Another Round.
"I am trying to see on all levels how we can do things differently. It is very exciting, and it gives me a lot of energy," Schillings added. "People are more ready for it. Never waste a good crisis."
Sébastien Onomo of France's Special Touch Studios, whose credits include Annecy-winner Funan, called today's environment "exciting" and said the film industry is made up of individuals that like challenges. "We have this feeling that we can build something new in terms of financing, artistic development and talent research," Onomo said. "At this moment everything seems possible."
"New routes" are needed to succeed in this changed environment, said Fran Borgia of Singapore-based Akanga Film Asia. "In 2020, when commercial television projects disappeared and we needed other avenues, we started to pitch for anything that came along."
Borgia, the producer of 2018 Locarno Golden Leopard winner A Land Imagined, explained that he "scaled down to keep the company flexible and at a level we are comfortable with so as to be able to produce the films we are working on."
Onomo stressed the importance of flexibility and the need to be able to react fast, noting Special Touch Studios was focused on "keeping a small back office and being a small company." Becoming more agile, he added, "lets me make choices that I could not have made otherwise."
Schillings also said it was important "not to become too big - you never know what will happen in the future. If you have too many employees, it will be difficult. We try to be able to breathe all the time, to grow a little bit when needed and stay small when we are developing."
The producers agreed that the production environment is buoyant in many places, but this has created new issues. "In the Netherlands we ran out of crew and cast because of the productions that are going on now," Schillings said. "The amount of work is not a problem. The problem is the new challenges."
All lamented the effects of festivals moving online. The "power of the presence needs to come back" as "film is a collective experience not only for the viewers but also for the makers," Borgia said.
"A co-producing partner is found only when you meet in person, and festivals are essential for this," Schillings added.