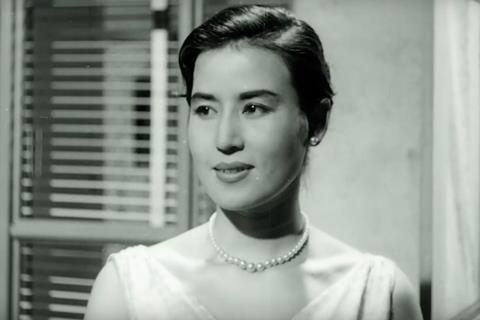 Korean actress Choi Eun-hee, known as one of South Korea's leading classic film stars as well as for having been abducted to North Korea with her then ex-husband and director Shin Sang-ok, died at the age of 91 today (April 16).
Yonhap news agency reports that her son, filmmaker Shin Jeong-kyun, confirmed she passed away late this afternoon after going to the hospital for kidney dialysis.
Born November 20, 1926 in Gwang-ju, Gyeong-gi Province, Choi debuted on the stage in 1942 and made her silver screen debut with A New Oath in 1947.
She became a star with films such as A Sun Of Night (1948) and Yearning For Home (a.k.a. A Hometown In Heart, 1949) and became known as one of South Korea's "troika" of leading actresses with Kim Ji-mee and Um Aeng-ran in the 1950s and 1960s.
Choi worked with director Shin Sang-ok in 1953 on the documentary Korea and married him the next year. Together, they played a pivotal role in the heyday of South Korean cinema, making classics such as Confessions Of A College Woman (a.k.a. A College Woman's Confess, 1958), A Flower In Hell (1958), Seong Chun-hyang (1961), Mother And A Guest (1961) and Love Affair (1963).
By 1976, she had appeared in more than 130 films.
She was also one of Korea's first women directors with The Girl Raised As A Future Daughter-In-Law (1965), One-Sided Love Of Princess (1967) and An Unmarried Teacher (1972).
She won the Grand Bell Award for best actress after also starring in The Girl Raised As A Future Daughter-In-Law.
Abduction
Choi became the principal of Anyang Arts High School in 1967 and recounted going to Hong Kong in January 1978 to meet a donor for the school.
It was there she was kidnapped by North Korean agents on behalf of dictator Kim Il Sung's cinephile son Kim Jong Il, who would later take his father's place.
Shin, from whom she had been divorced years before, was abducted seven months later. They were only reunited in North Korea five years later, at a party in 1983.
Encouraged by Kim Jong Il, the couple headed up a studio together and made 17 films in North Korea, including The Hero Of No Return (1984). Choi won the best actress award at the Moscow International Film Festival for her 1985 film Salt.
They were visiting Vienna in March 1986 when they defected through the US embassy. They returned to live in South Korea in 1999 after living years in exile.
Choi became the head of a theatre troupe in 2001 and produced the musical Crazy For You in 2002. She wrote an autobiography, Confessions Of Choi Eun-hee, which was published in 2007.
Shin passed away April 11, 2006.
The 2016 Sundance Film Festival screened a documentary about their time in North Korea, The Lovers And The Despot, directed by Ross Adam and Robert Cannan.
Choi is survived by two sons and two daughters.