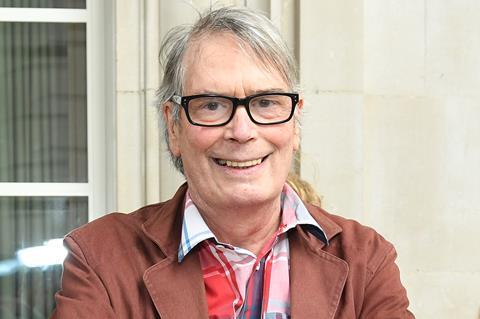 Friends and colleagues have paid tribute to Nik Powell, the veteran producer and former director of the UK's National Film And Television School (NFTS), who died yesterday aged 69.
A legendary figure in the UK film industry, Powell produced or executive produced more than 40 films, including Neil Jordan's Mona Lisa and The Crying Game, Scandal, Fever Pitch and Ladies In Lavender.
Powell was one of the co-founders of the Virgin Group alongside Richard Branson in 1970 before moving into film production with Palace Pictures and then Scala Productions. He was appointed chairman of the European Film Academy (EFA) from 1996 to 2003 and headed the NFTS from 2003 to 2017.
Stephen Woolley - producer, Number 9 Films co-founder
"Nik Powell asked me - a 25-year old punk movie buff - to start a small video label with him in 1982 based on the programming at the Scala Cinema, which I ran. That label blossomed into Palace Video, Pictures and Productions, creating an incredible Palace team of enthusiasts who for a decade played a major part in transforming the British film industry. Nik's determination and never-say-die attitude was legendary, as was his mercurial temper, off-the-wall sense of humour and steadfast loyalty. Throughout that time Nik backed me on every film I acquired and produced. His unconditional faith was rewarded with a string of hits and the warmth and generosity of a generation of young successful filmmakers and executives. I can never thank Nik enough for the chance he gave me and hundreds of others. From Company Of Wolves to The Crying Game, Nik Powell as an executive producer was an unassailable rock and will be sorely but affectionately missed by the thousands of people who he inspired to effect change."
Daniel Battsek - Director, Film4
"Nik was a mentor to me and gave me my first real job in the industry. He was an eternal optimist who never let any obstacle stand in his path, which makes his passing even more upsetting. Nik's gregarious personality made him tremendous fun to be around but that should not obscure the major influence that he (along with Stephen Woolley at Palace Pictures) had over the independent British film industry nor the boundless enthusiasm he put to such significant effect as director of the NFTS. We have all lost one of our most charismatic voices and personally I will miss Nik as a longstanding and dear friend."
Neil Jordan - director
"Nik was a force of nature, who, with Steve Woolley and all of the team at Palace, enabled some extraordinary pictures to be made. I was proud to be part of that. His later engagement with the NFTS as an educationalist was a great addendum to a great and generous career."
The Virgin Group
"[Powell] played a huge role in the development of the Group. He leaves an incredible legacy of music, film, friendship, laughter and love."
Jon Wardle - NFTS director
"I spent five incredibly happy years working with Nik as his deputy. He was a good friend and I will miss him hugely. He told me recently how his work to support and develop NFTS students to reach their full potential was probably the professional achievement he was most proud of. The culmination of his work at the School was recognised in 2018 when together we collected the Bafta for outstanding British contribution to cinema award. Nik leaves an unrivalled legacy and no one has done more than him to set the bar high. We will continue to strive for the future success of the School in his honour."
Amanda Nevill - Chief executive, BFI
"Nik was a one-off, injecting a sort of rock n roll teenage exuberance to everything, his energy sweeping us all along with him. His legacy is multiple, but his transformation of the NFTS, achieved with his extraordinary and driven clarity of purpose will always be found at the heart of film, now and in the future. He is a bit of a legend to us all."
Ken Loach and Sixteen Films
"So saddened and shocked to hear that legendary, peerless, film producer Nik Powell has died today. A good friend and fellow traveller with a penchant for brilliant ideas, appalling suits and terrible jokes."
European Film Academy
"European cinema has lost a great filmmaker and the European Film Academy has lost a dear friend."
David Puttnam – producer, president of the FDA
"NFTS under [Nik's] leadership made an extraordinary contribution to the film and television industries - injecting talent into many of its creative sectors. A great man, a great life and a great loss."
Adrian Wootton – Chief executive, Film London
"I knew him for many years, admired him as an entrepreneurial producer, brilliant director of NFTS and one of the most outspoken and funniest men in the UK film industry. He was a unique character and a stalwart of our business."
Josh Berger - president & MD, Warner Bros. UK, Ireland & Spain and Chair, BFI
"Over the years, I had the privilege of seeing Nik's passion, energy and support for new talent, through Warner Bros. partnership with the NFTS and also at the BFI. He was a champion of both British film and British filmmakers who made a mark on countless young people's lives and careers. His legacy will live on through the films, television and games he helped so many people create."
Jason Solomons – film critic and broadcaster
"A light gone out in the British film industry, the whole film world. He was a wonderful teacher, huge Arsenal fan, giant personality, raconteur and just the best fun. I miss him already."
Edgar Wright - director
"RIP to the great Nik Powell, a key figure in ground-breaking British cinema. From starting the career of Neil Jordan to distributing the films of Sam Raimi and The Coens through Palace Pictures; if you were an 80's film geek, this ident meant something."
Bafta
"Nik made an invaluable contribution to the Academy and he will be missed by all who knew him."
If you wish to pay tribute to Nik Powell, please leave a comment below.