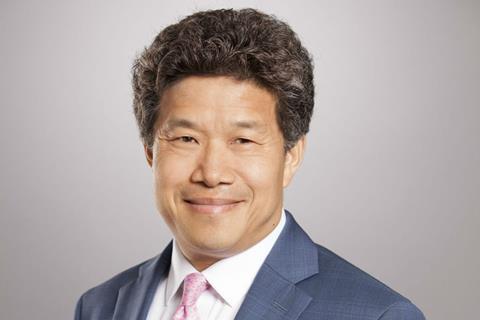 Lenders have taken control of Global Road Entertainment's domestic feature production and distribution division as the company's financial woes deepen.
Global Road management met with staff on Tuesday (August 21) to explain the situation. Screen understands that at time of writing there was no mention of lay-offs at the company formed by Donald Tang's (pictured) Tang Media Partners (TMP).
Furthermore the development is not believed to impact the television or sales divisions, which according to sources remain going concerns.
In situations when a lender assumes control of a company, the potential outcomes can include extension of a credit line, or Chapter 11 bankruptcy.
The North American release on Friday of family adventure A.X.L. is scheduled to go ahead as planned in approximately 1,695 locations and the film is tracking to post an opening weekend in the single million-dollar range.
Tuesday's development follows news last week that TMP has struggled to raise funds to keep the Los Angeles-based film operation afloat.
Tang brought on investment bankers Moelis & Co. and Morgan Stanley in February to raise approximately $200m in equity from Asia and the West and according to reports that money has not materialised.
Global Road representatives had not returned calls at time of writing. However when Global Road's financial situation came into focus last week, they issued the following statement: "Global Road Entertainment is continuing to pursue fundraising efforts and also identifying additional ways to bring both capital and strategic partners into the fold in support of the studio's plan.
"We currently have a slate of films set for release for the second half of the year and expect to begin producing our own product in 2019. The film slate complements our active and robust television business of producing content for both domestic and international partners."
Earlier this month Global Road pulled Johnny Depp crime thriller City Of Lies from the US release schedule – it had been set for September 7 – ostensibly due to concerns over the troubled star's public image.
The US theatrical release slate is skimpy. Besides A.X.L., Global Road has set thriller The Silence to open on December 7.
While the company has been quiet at the major film markets in terms of new content, it hosted a buyers presentation in Berlin last February when the hierarchy including chairman and CEO Rob Friedman, whom Tang brought on last August, told a private presentation they planned to raise $1bn in production funds over the next three years.
In Cannes, the company announced it had acquired North American rights from Studiocanal to Heyday Film's The Secret Garden starring Colin Firth and Julie Walters, which went into production in April in the UK.
In June Blake Lively returned to work following an injury on the set of The Rhythm Section, the spy thriller and sales title set up under IM Global, which was folded into Global Road along with the distributor Open Road. US distributor Paramount has set a February 22, 2019 theatrical release date.
Global Road's TV pipeline includes Muscle Shoals at ABC. In January the company signed a first-look deal with Adam Shankman's Offspring Entertainment.