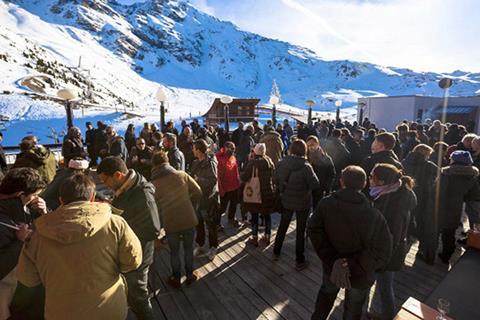 Les Arcs Film Festival's industry programme has selected eight emerging directors for its Talent Village initiative and has named Finnish director Juho Kuosmanen as its Talent Village ambassador.
The programme, consisting of workshops and meetings, is designed to help the directors move from short to feature-length projects, with a particular attention given to industry issues and international aspects of the projects.
Kuosmanen won the Grand Prix in Cannes in 2021 for Compartment N°6, a follow-up to his Un Certain Regard film The Happiest Day In The Life of Olli Mäki in 2016. Kuosmanen will be present in Les Arcs, which takes place from December 10-17, to meet with the selected talents.
Before participating in the Industry Village one-to-one meetings sessions of the Coproduction Village, the directors will attend three days of workshops in Les Arcs. At the workshops they will meet and exchange ideas with industry execs Katrin Pors, producer at Denmark's Snowglobe, Olivier Barbier, head of acquisitions at mk2 Films, Mathilde Henrot, programmer at Locarno Film Festival and co-founder of FestivalScope and the music supervisor Martin Caraux from France's Bande Originale.
The directors of the Talent Village will also have the opportunity to work in collaboration with four emerging film music composers. The selected 2022 composers are Italy's Sergio Bachelet, France's Leonie Fleuret, Dougal Kemp and Isis Prager.
The €2,000 Talent Village Award, endowed for the first time by Universciné, will be awarded to one of the eight talents selected this year.
The jury will be composed of three industry professionals : Susan Wendt, managing director at Denmark's TrustNordisk, Julie Billy, producer at France's June Films, and Georges Goldenstern, former director of the Cannes Cinéfondation.
Talent Village directors 2022, with recent short film credits
Angelika Abramovitch (Swe)
Catcave Hysteria (Clermont-Ferrand IFF)
Ghiath Al Mhitawi (Ger)
Return (Brest European FF, Max Ophuls) and Paein
Alica Bednarikova (Slov)
Liquid Bread (La Cinef, Karlovy Vary IFF)
Siiri Halko (Fin)
Nesting (Clermont-Ferrand IFF) and Katharsis Oy (Helsinki FF)
Kalman Nagy (Hun)
Things Like (Palm Spring FF) and The Other End of The Streets
Lora Mure-Ravaud (Switz)
Euridice, Euridice (Locarno FF) and Valet Noir (Karlovy Vary IFF, Palm Spring FF)
Job Antoni Schellekens (Neth)
A Memori
Pascal Schuh (Ger)
Songs of a Caretaker (Students Academy Award Longlist) and Answering Eternity